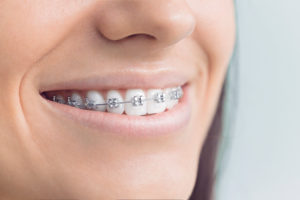 A crooked and misaligned smile often causes confidence issues; however, it also negatively impacts your oral hygiene. When your teeth are not properly aligned, they are difficult to keep clean, increasing your risk for tooth decay and gum disease. Not to mention, protruding and rotated teeth are more prone to damage as they will take the brunt of the force if there is an injury to the mouth. Now, to get a straight smile, you have a lot of options when it comes to braces in Sayville. At Sunrise Dental Service, we offer both traditional braces and Invisalign clear aligners to improve the alignment of your teeth.

What are My Options for Braces?
Traditional braces have been used for more than 100 years because they are convenient, affordable, and effective. By attaching a series of brackets and wires to the teeth, they are gradually pulled into position. This form of treatment can be used for even the most complex orthodontic issues. While many are often concerned about their appearance, new advancements have made them more discreet.
Invisalign offers a far different approach. Instead of using metal wires and brackets, a series of custom-made aligners are worn over the teeth to slowly move them into position. Often, this is the preferred option because it is less noticeable and the duration of the treatment is often shorter. However, it is often more expensive than traditional braces and there are certain limitations.
Which Option is Best for Me?
The severity of your alignment and bite issues will be a large determining factor as to which option will meet your needs. Traditional braces can be used for both minor and complex issues. If you are considering Invisalign in Sayville, keep in mind that it cannot be used if you have teeth that are rotated more than 20 degrees, tipped over 45 degrees, or large spacings of over 6mm. In addition, it cannot be used to correct certain bite issues.
What Do I Need to Consider Before Making My Choice?
Before you can make your final choice, there are several factors you must consider. If you are not very self-disciplined, Invisalign may not be the best option for you. The aligners are removable, but you will need to be committed to wearing them for 22 hours per day. However, they tend to be more convenient because you do not need to visit the dentist as often for adjustments and oral hygiene is easier.
On the other hand, traditional braces are often more affordable and can be used to treat all orthodontic issues. Now, there are many different types of braces, allowing them to be more comfortable and more discreet during your treatment.
Where Can I Get Braces?
If you are ready to improve the health and alignment of your teeth, schedule a consultation with Sunrise Dental Service today. After performing an evaluation, we will help you determine with orthodontic treatment that will best meet your needs. We look forward to helping you achieve a straight, healthy smile.