Invisalign in Sayville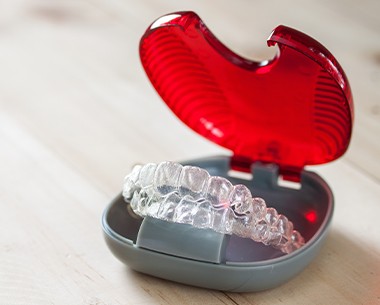 If you are like one-third of adults, you probably do not like how your teeth look. If gaps and alignment issues have you feeling insecure about your appearance, you have probably considered braces in the past. Although you know that they are effective, you do not want to deal with their restrictions, lengthy treatment, or their noticeable appearance. Now, you can get the results you want without brackets and wires. At Sunrise Dental Service, we provide Invisalign near Sayville to help you achieve a confident, beautiful smile with a nearly invisible solution.
How Does Invisalign Work?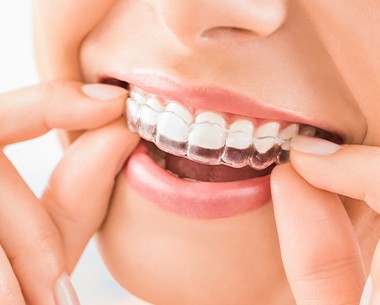 Invisalign is far different than traditional braces. We do not use brackets or wires to move your teeth. Instead, we take impressions of your mouth to create a series of clear plastic aligners. You will wear them for about 22 hours per day, allowing your teeth to be gradually moved into their ideal positions. After about one week, you will switch to the next one in the series. On average, you will complete your treatment in about 12 months. Afterward, you will briefly require a retainer to prevent them from moving back into their previous positions.
What Are The Benefits of Invisalign?
Invisalign has quickly become the preferred orthodontic treatment among adults because it is nearly invisible. The clear plastic aligners are virtually undetectable for a discreet and sophisticated treatment. In addition, they offer a wide range of benefits that are not possible with traditional braces, including:
Added comfort because the aligners are smooth, so there is no irritation to the lips or cheeks.
The aligners are removable so there are no dietary restrictions.
Easy oral hygiene routine since there are no brackets or wires to clean around.
Caring for the aligners only requires clear antibacterial soap and a soft-bristled toothbrush.
Less time in the dentist's office because you do not need appointments for adjustments.
You can still whiten your teeth while using Invisalign.
Shorter treatment time.
Who Should Consider Invisalign?
Invisalign can be used to correct an array of bite and alignment concerns. As an FDA-approved treatment, you can rest assured that you can get the results you want with a customized treatment plan. Still not sure if it is the right choice for you? You may want to consider it if: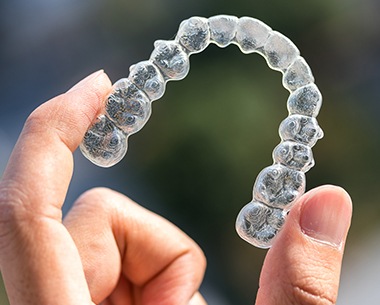 You have limited time in your schedule for multiple visits to your dentist near Sayville.
You want a discreet, sophisticated treatment.
You want fast results.
You do not want to deal with dietary restrictions.
You have allergies or sensitivity to metals.
You do not want to change your oral hygiene routine.
Start Your Journey to a Straight Smile
If you are ready to start your journey to a straight smile, it is time to see if Invisalign is right for you. Dr. Makadia will perform a comprehensive consultation to ensure that you are a candidate. With a customized treatment plan, he will help you achieve a healthy, beautiful smile.
Contact Sunrise Dental Service today to schedule your consultation for Invisalign.