Implant-Retained Dentures—Bohemia, NY
Enjoy the Security of Implant-Retained Dentures
Are you among the 35 million adults in the United States who do not have any remaining natural teeth? To restore your ability to chew and speak, you have tried dentures. Although you were hopeful about regaining a functional smile, they did not give you the results you wanted. Now, you can skip the disadvantages of traditional tooth replacement options with dental implants near Sayville. With implant-retained dentures, you will never need to worry about slipping or irritation again.
Benefits of Dental Implants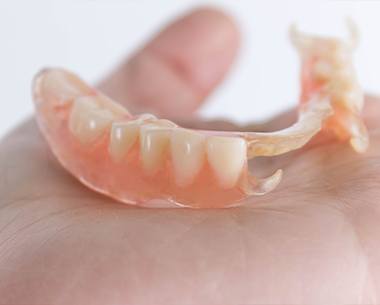 Traditional dentures rely on suction or an adhesive to hold your arch in place. While several advancements allow them to fit more comfortably, they will never truly feel natural. Now, you can enjoy the next best thing to your real teeth with dental implants.
By surgically placing dental implants into your jawbone, it anchors your denture in place. Your jaw will fuse to the posts to create a stable foundation for your new smile. This allows you to benefit from several advantages that are not possible with conventional dentures near Sayville, such as:
Over 95% success rate.
No slipping or irritation.
Potential to last for decades.
Preserves your bone density.
Provides support for your facial structures.
Improves your oral health.
Looks and feels natural.
Increases your biting force of over 70%.
Cost-effective.
How Does It Work?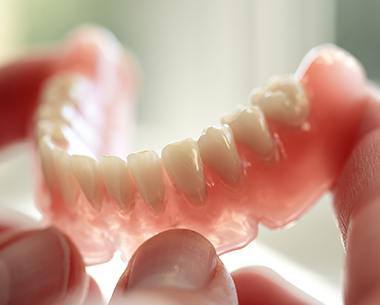 Dr. Makadia creates an acrylic base to match your gum tissue. It will feature custom-made prosthetic teeth that look natural. The denture is held in place using one of two types of implant supports:
Bar Retained Dentures
A thin metal bar is attached to 2 to 5 implant posts. It will follow the curve of your jaw and allow the denture to fit over it to clip in place.
Ball-Retained Dentures
At least 2 implant posts are needed to hold individual abutments that feature a ball and socket system to clip the denture to your jaw.
Understanding the Cost of Implant-Retained Dentures
Implant-retained dentures cost more upfront than conventional tooth replacement options, but they allow you to make a long-term investment in your smile. The implant posts have the potential to remain in place forever, so you will never need to worry about having them replaced.
There is no specific cost for the procedure because it is based on your individual treatment plan. Factors that can influence the price include the types of abutments that are used and if any additional procedures are needed.
Each phase of your treatment is broken into separate fees. You will pay for placing your posts and for the restoration process. In some cases, you can use your dental benefits to help lower the cost.
Caring for Your Implant-Retained Dentures
With the right aftercare, your new smile can last for several decades. To ensure it lasts as long as possible, it is best to:
Remove your dentures and clean them well.
Clean around the abutments to remove food particles and bacteria.
Visit Dr. Makadia twice a year for a preventive appointment.
Replace your attachments when they are worn.
Complete Your Smile Today!
If you did not get the results you wanted with traditional dentures, your dentist near Sayville, Dr. Makadia, can help. Contact our office today to see if dental implants are right for you.