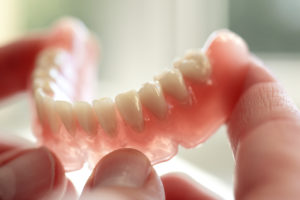 When you suffer from tooth loss, you depend on your dentures to restore your ability to eat and speak while smiling confidently. Even with the best care, there may come a time when they break. When this happens, it is unexpected and could put your entire day on hold. You need to have them repaired right away to restore your normal oral functions and to get back to your daily commitments. At Sunrise Dental Service, we offer repairs for dentures in Sayville as part of our emergency dentistry services. We provide the same-day care you need.

Why Did My Dentures Break?
The most common form of a damaged denture involves a fracture. While this often occurs with the top denture, it can happen with the bottom one as well. There are several reasons why this may happen, such as from daily wear and tear.
As it undergoes many stress cycles of chewing and daily use, it is not uncommon for it to weaken over time. However, it can also occur due to variations in temperatures and being exposed to certain foods, such as those that are acidic. Of course, a denture can break from falling, which is why it is always recommended to have a towel on the ground or counter when removing them to provide an additional layer of protection.
Dentures can also break if you do not care for them properly, such as not soaking them nightly, which will cause them to dry out. In addition, as your jaw shrinks, it will no longer fit correctly, causing it to move around in the mouth. This can cause stress and pressure points, which will weaken it.
Where Can I Have My Denture Repaired?
When your denture breaks, it causes a large inconvenience in your day. You may be tempted to delay having it repaired, but this can cause more extensive issues. In addition, it could cause an injury to your gums. To fix the problem quickly, you may even be tempted to purchase an over-the-counter repair kit; however, we never recommend their use. Instead, you need a professional to fix the damage.
Sunrise Dental Service offers denture repair in Sayville with same-day appointments. As an emergency dentist, we can quickly repair or realign it to restore its fit and function. By doing so, you can go about your day– smiling, speaking, and eating with ease. We offer the fast results and quick relief you need to get past the unexpected issue.
Benefit from Same-Day Denture Repair
If your denture breaks, stop using it right away. Continuing to use it could cause the issue to lead to a bigger problem. Instead, contact Sunrise Dental Service for a same-day appointment. We will get you into our office and evaluate the damage to create a treatment plan. We offer the solutions you need to overcome the challenge so you can go about your day. We look forward to providing you with the fast relief you need to continue smiling confidently with high-quality dentures.