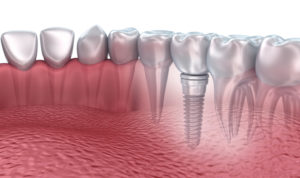 If you have an incomplete smile due to missing teeth, the open space causes you to feel self-conscious. Not to mention, everyday tasks like eating and speaking become more challenging while your dental health also starts to decline. To restore your quality of life, you could choose a dental bridge; however, it will not produce the same benefits as those offered with a more permanent solution. With dental implants in Sayville, you benefit from a lifelong option to fill the space without the disadvantages of more traditional options. However, not everyone is a candidate for the procedure. At Sunrise Dental Service, we will help to ensure they are the right choice for you.

What Are Dental Implants?
Dental implants consist of an implant post, an abutment, and a dental crown to permanently replace the root and crown of the tooth. Offering over a 95% success rate, they are also the only prosthesis that stops the jawbone from losing density. In addition, it closely mimics the appearance and function of natural teeth while lasting for a longtime.

Are Dental Implants Right for Me?
Dental implants are highly successful when used on the right candidate. To ensure they are right for you, you will require a thorough consultation with your implant dentist in Sayville.
You must have one or more missing teeth. In addition, you must have healthy gums to decrease the risk for infection, which can lead to implant failure. The jawbone must also have adequate bone density to support the implant post. However, even if you have bone loss, you can still benefit from them with a bone grafting procedure.
The long-term success of the procedure relies on your body's ability to heal and fuse to the implant post. Therefore, if you have any connective-tissue disorders or received high doses of radiation to the head or neck, you may not be a candidate. Any other medical issues that limit the body's ability to fuse to the post will prevent you from getting them as well.
You must have minimal risk factors for infection. If you have immune deficiencies, uncontrolled diabetes, or other medical conditions that lower your body's ability to fight infections, you may not be a candidate. This can also include medications that suppress your immune system, like steroids.
Dental implants cannot be used on pregnant women or those who have not finished growing. Often, they are not recommended for patients who suffer from grinding of the teeth because the extra strain can lead to implant failure.
Where Can I Get Dental Implants?
If you are ready to see if dental implants are right for you, it is time to contact Sunrise Dental Service to schedule your consultation. We look forward to giving you a confident, complete smile that will last a longtime.