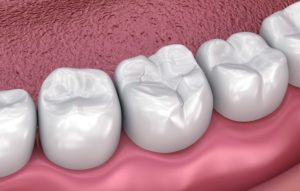 Your teeth are comprised of three layers. The hard-outer layer you see is called your enamel, which protects the underlying dentin and pulp. Every day, your teeth are exposed to harmful bacteria that can erode your enamel, leading to a cavity. Although dental caries can be prevented, at least 92% of adults have had a cavity in a permanent tooth. If you're prone to decay or you have weakened enamel, you can benefit from a protective barrier using dental sealants. While your dentist often recommends them for children, you're never too old to benefit from their protection.
What is a Dental Sealant?
A dental sealant is widely used is preventive dentistry to stop tooth decay in cavity-prone areas, like the crevasses of the back molars. A sealant is a thin, plastic coating that's painted on the teeth to create a barrier between the enamel and cavity-causing bacteria. The sealant is translucent or white, so no one will notice it's there as it protects the vulnerable areas of a tooth.
Can Adults Get Dental Sealants?
Typically, dental sealants are recommended for children between the ages of 6 to 14 because they are the most prone to decay. Children and adolescents often don't use the best brushing techniques or rush through their oral hygiene routine, leaving food particles and bacteria on their permanent teeth. Although they are often recommended for children and teenagers, adults can benefit from dental sealants as well.
Who Should Get Dental Sealants?
Your dentist might recommend dental sealants if:
You have a history of tooth decay.
You have early signs of tooth decay.
Your enamel is thin or deficient.
Your molars have deep pits or fissures.
You consume a diet high in refined sugars or carbohydrates.
You have poor oral hygiene habits.
You use certain orthodontic appliances.
How Long Do Dental Sealants Last?
Dental sealants will experience daily wear and tear. As a result, they won't last forever. Your dentist will check your sealants at each routine appointment for any signs of damage. If a sealant has been compromised, your dentist can easily replace it to continue protecting your tooth from decay.
What Can I Expect?
The process of receiving dental sealants is quick and painless. After your tooth is cleaned and dried, an acidic solution is applied to the chewing surface to roughen it up to ensure a secure bond. Your tooth is rinsed and dried again before the sealant is painted on your tooth and cured using a special light.
Protect Your Smile from Tooth Decay
You're never too old to benefit from dental sealants. If you're concerned about tooth decay, ask your dentist about their benefits during your next visit.
About Dr. Makadia
Dr. Makadia strives to create healthy smiles through a focus on prevention. Besides earning his dental degree, he has completed over 150 hours of continuing education within the last 3 years alone. He combines his training with the latest advancements in dentistry to help his patients reach optimal oral health. If it's time for your next cleaning and checkup, contact our office today for an appointment.