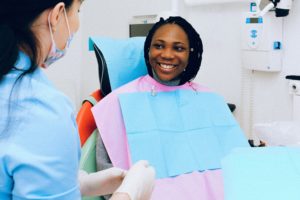 As we head into fall, the year is quickly coming to an end. If you haven't maximized your dental insurance, you're running out of time. As we approach the holiday season, your schedule is going to be busy, making it difficult to use any remaining benefits before they expire. Don't worry, your dentist can help. Worried about a large bill? There's no reason to be concerned. You can invest in a healthy smile without breaking the bank using your dental insurance policy.
Invest in Preventive Dentistry
Your teeth can last for a lifetime with the right care over the years. Although your toothbrush and floss are important for a healthy smile, your teeth and gums also rely on the services they receive from a dentist.
The American Dental Association recommends everyone visits their dentist at least twice a year for a cleaning and checkup. Unfortunately, many people think routine appointments aren't necessary, but this couldn't be further from the truth.
Preventive care from your dentist is proven to lower your overall oral health expenses by stopping issues from developing in the first place. This reduces the likeliness for needing an expensive treatment down the road. In fact, research shows every $1 spent on prevention can save you as much as $50 on restorative and emergency care.
Choose Affordable Dental Care
If you're like many people, you might skip routine appointments because you're trying to save money. Did you know you can see your dentist regularly for a cleaning and checkup for minimal expense? Most dental insurance policies cover preventive care 100% after paying your monthly premiums. You're able to visit your dentist every 6 months without worrying about an unexpected bill.
Unfortunately, even with the best prevention, an issue can develop. Now is the perfect time to treat it because you still have your annual allowance. After reaching your yearly deductible, your dental insurance can cover as much as 80% of the cost of the treatment, so you can rehabilitate your smile without draining your wallet.
It's best to have the issue treated right away to prevent it from turning into a bigger problem. If the treatment exceeds your annual limits, your dentist can help split the cost because there are only a few months left in the year.
Maximize Your Dental Benefits
If you don't use all your insurance coverage, you'll lose any unused benefits, so why not maximize your policy? A member of your dental team will work on your behalf with your insurance company to file the necessary claim forms to reduce the amount you need to pay out-of-pocket. They will help you find the solutions you need to invest in a healthy smile without worrying about any added financial burden.
About Dr. Makadia
Dr. Makadia strives to create healthy smiles that last through a focus on prevention. He is in-network with many leading insurance carriers to help his patients achieve optimal oral health using affordable care. If you have any questions about your insurance coverage, or you need an appointment, contact our office today.