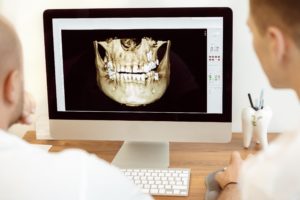 If you're missing 1 or more teeth, you can enjoy a nearly perfect replica of your natural smile using dental implants. They are unlike any other treatment because they recreate the entire structure of a tooth from the root up. This allows them to closely look and feel real while also having the potential to last for decades with the right care. The foundation for their long-term success starts long before you undergo your placement surgery. Your dentist uses a CBCT scan to create the groundwork for your dental implants. This revolutionary piece of technology is influential to the success of your new smile.
What is a CBCT Scan?
A CBCT scan is an abbreviation for a Cone Beam CT scan. It's an innovative imaging technology that uses digital X-rays and computer-processed information to create an accurate and high-resolution 3D image of your teeth and jaw. It goes a step further than traditional imaging to see all the structures of your jaw, including the nerve pathways and other soft tissues. This offers an unmatched level of information to allow your dentist to effectively plan and execute your implant placement surgery.
Why Do I Need a CBCT Scan Before My Dental Implant Procedure?
If you're interested in replacing your missing teeth with dental implants, a CBCT scan is one of the first steps in your journey to a complete smile. A dental implant consists of 3 parts: a titanium implant post, an abutment, and the crown.
The post is surgically placed into your jawbone to serve as a new root. As a result, your jaw must have adequate bone density to support it. The scan will show your dentist the health of your jaw to determine if you'll need additional procedures before your placement surgery, such as bone grafting or a sinus lift. You'll need to be fully healed from any previous treatments before moving forward with the placement of your posts.
Besides determining your candidacy for dental implants, the scan also plays an essential role in placing your posts. Your dentist can pinpoint the precise location to insert the posts into the bone. This allows them to avoid vital oral structures, like your nerves, to ensure the best results possible. The scan integrates with computer-guided placement technology to take the guesswork out of the process for improved accuracy.
What are the Benefits of a CBCT Scan?
Adding this elite technology to your treatment plan provides exceptional advantages, including:
Better image quality
Improved accuracy
Lower dose of radiation
Quick and painless
Reduced room for error
How Can I Get Started?
Take your first step toward a beautiful smile by scheduling a consultation with a trusted dentist for dental implants. They'll create the personalized plan you need using advanced technology.
About Dr. Makadia
Dr. Makadia provides quality dental care using the latest innovations in dentistry, like dental implants. Besides earning his dental degree, he has also completed advanced training in the science of oral implantology. As a member of the American Academy of Implant Dentistry, you can rest assured your smile is in good hands. Contact our office today to schedule your consultation for dental implants.