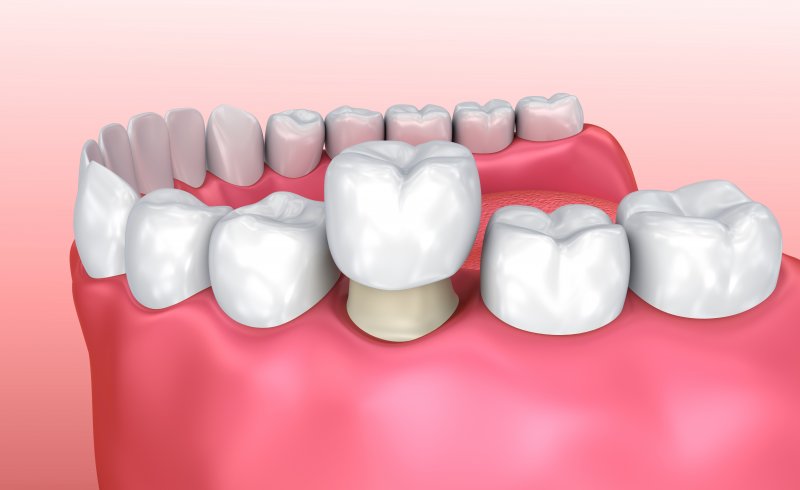 Dental crowns in Sayville are one of the most well-known, versatile, and effective restorative dentistry treatments available. For years, patients have enjoyed restored smiles that are free from damage and decay because of their ability to block out anything bad that could further weaken the tooth. If you're preparing for your own dental crown but don't know what to expect, allow us to explain how long you can expect yours to last and ways in which you can prolong the life of your custom prosthetic.
How Long Do Dental Crowns Last?
Patients with dental crowns often see outstanding results that can last anywhere from 5 to 15 years. Made from a wide array of materials, your dentist in Sayville will most likely use either porcelain or ceramic to create a beautiful, natural-looking crown that blends in with the rest of your smile.
These custom restorations are designed to offer full functionality, restoring your ability to speak, eat, chew, and smile with confidence, but much of its lifespan depends on how well you take care of it.
What Can I Expect When Having a Dental Crown Placed?
The process of receiving a dental crown typically takes two appointments. During your first visit, your dentist will perform a thorough examination of your smile to determine if you are, indeed, a candidate for a crown. If given the green light, the two of you will discuss the look of your artificial tooth (i.e. size, shape, color, material) before he begins to "prep" your tooth.
Once he removes the decayed or damaged portion of your tooth, he will fill and seal it off to prevent further reinfection. The next step is to file the tooth in a way that will allow the dental crown to snugly fit over your natural tooth.
Before you leave, you'll receive a temporary crown to wear until the permanent is finished, which will be crafted by dental lab technicians using impressions made from your regular tooth.
You'll return to your dentist office to have the permanent crown cemented into place once it is finished and ready for placement.
How Can I Prolong the Life of My Crown?
In order to extend the life of your dental crown, there are a few things you should do, such as:
Maintain your regularly scheduled six-month dental checkups and cleanings
Brush your teeth with a soft-bristled toothbrush for two minutes each morning and night
Gently floss between your teeth after every meal
Rinse using an antimicrobial mouthwash
Avoid hard, crunchy foods, as they can damage your crown
Although dental crowns are not made to last forever, you can certainly take proper steps to put yourself closer to the 15-year mark when it comes to their longevity. Enjoy your smile for longer by taking care of your custom-made dental crowns.
About the Author
Dr. Makadia has been placing dental crowns on his patient's teeth for years. As one of the most versatile methods of treatment, these custom restorations can protect weakened teeth from further damage or decay. Dr. Makadia's experience and educational background prove he is well-trained and equipped to handle all types of dental needs. Earning his dental education from New York University, College of Dentistry, he received his cosmetic and reconstructive periodontal surgery education in 1998. To learn more about him or the services we offer, contact us via our website or by calling (631) 567-5566.