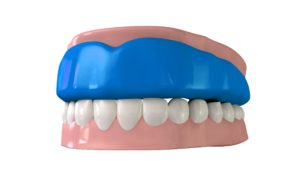 As the temperature declines and the leaves begin to change colors, fall is in the air. With the seasons changing, so do the sports you and your loved ones play. As you prepare to head out onto the field, you take safety seriously. The last thing you expect to happen is an oral health emergency; however, they occur more often than you might believe. In fact, 1 in 6 Americans faces a dental emergency each year. 39% of them are sports-related. Here are 3 simple tips to follow this fall to prevent an unplanned trip to your emergency dentist near Sayville.
1. Wear an Athletic Mouthguard
An athletic mouthguard is an essential piece of protective gear, just as a helmet is for a football player. With over 5 million teeth knocked out every year, you could be among the 200,000 people who prevent dental emergencies by wearing a mouthguard.
A custom-fit mouthguard provides an added layer of protection between the upper and lower teeth, the soft tissues, and your jaw if there's trauma or injury to the face. Besides protecting the teeth and gums, research also shows a mouthguard can also reduce your risk of concussion.
2. Watch Your Sugar Consumption
After a long practice, a cool sports drink or juice can seem like the ideal choice to help you rehydrate or a sweet treat might hit the spot after a long day. Unfortunately, this can significantly increase your risk of tooth decay.
When your saliva combines with sugar, it turns to an acid that slowly eats away at your enamel. Eventually, a small hole may form, called a cavity. This increases the risk of an unexpected toothache that can keep you off the field.
It's best to always choose water instead of sports drinks and juices. Also, choose healthy snacks instead of sweets, like low-fat dairy products or fresh fruits.
3. Don't Use Your Teeth as Tools
While on the go, it's easy to use your teeth as tools to open Velcro on sports gear or to tear through a snack package. You may even use your mouth as an extra set of hands to hold your gym bag or water bottle. Although this may seem convenient at the time, you're risking a broken or fractured tooth that can lead to an unplanned trip to your family dentist near Sayville. It's best to use your teeth as they are intended to chew foods and smile confidently.
Schedule an Appointment
Before your schedule gets busy with practices, games, and other fall sporting events, take the time to visit your dentist for a cleaning and checkup. They'll look for any issues that can become a big problem later in the season. Don't wait to protect your smile!
About Dr. Makadia
Dr. Makadia strives to provide high-quality dental care with a focus on prevention. Besides cleanings and checkups, he also offers other preventive services, like athletic mouthguards. He'll create a comfortable, durable mouthguard to protect your smile from damage. Contact our office today to schedule an appointment before the fall season.