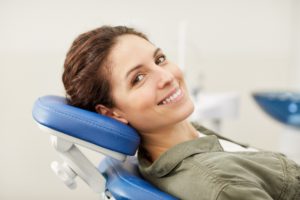 If the weight of an unattractive smile is holding you back from feeling your best, you can give your confidence a boost with cosmetic dentistry. No matter if you want to brighten your smile or significantly transform your teeth, you need an experienced and reputable cosmetic dentist near Sayville. Unfortunately, not all dentists are the same. You need a dental practice capable of producing the results you want while giving you the care you deserve. If you can't find the right team, here are 5 reasons Sunrise Dental Services is worth the short drive. Dr. Makadia proudly treats patients from Sayville, Holbrook, and Ronkonkoma to achieve your dream smile.
1. Training & Qualifications You Can Trust
Although many dentists offer cosmetic services, not all have completed additional training in the field to specialize in the treatments. Dr. Makadia earned his education in cosmetic and implant surgery in 2001. In addition to completing a post-graduate program, he has over 500 hours of continuing education under his belt. He regularly attends dental seminars to remain well-versed in the latest advancements in dentistry.
2. Comprehensive Services
There isn't a "one size fits all" treatment plan when improving smiles. You deserve to have options to get the exact results you want. Dr. Makadia offers a variety of cosmetic procedures to enhance the aesthetics of your teeth, such as porcelain veneers, teeth whitening, tooth-colored restorations, and soft tissue laser treatments.
3. State-of-the-Art Dental Office
Now, the services you receive from a dentist are complemented by the latest innovations in dentistry. Sunrise Dental Service embraces the latest technological advancements to improve patient comfort while also providing superior results. Among a few of the elite treatments and equipment you'll enjoy when visiting our office includes digital intraoral imaging, digital panoramic imaging, and computer tooth color shade matching.
4. Conveniently Located
Nothing should stand in your way of getting your dream smile, not even time constrictions. We understand your time is valuable and you may need multiple visits to achieve the results you want. Our office is conveniently located near Sayville, and we offer flexible office hours to accommodate your busy schedule.
5. Supported by Patient Satisfaction
We strive to ensure our patients are comfortable and satisfied when choosing Dr. Makadia as their cosmetic dentist near Holbrook. Don't just take our word for it. Many of our patients have graciously taken the time to leave reviews and testimonials about their experiences in our office to ensure you're making the right choice for your smile.
Get Your Dream Smile Today!
Protect your investment by choosing the right dentist. If you have any questions about the services we offer or you're ready to schedule an appointment, contact our office today. We look forward to meeting you.
About Dr. Makadia
Dr. Makadia strives to provide quality dental care to achieve lasting results. He uses the latest innovations in dentistry to create healthy, beautiful smiles. If you're ready to transform your self-esteem and your teeth, contact our office today to schedule an appointment.