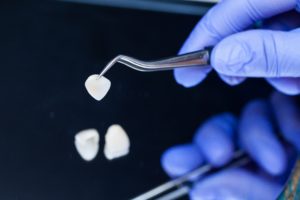 If you have less than perfect teeth, cosmetic dentistry can give you the smile you desire. Many patients choose porcelain veneers and Lumineers near Sayville because they produce drastic, natural-looking results. Although the two treatments are often thought to be the same, there are clear differences between them. As a result, only one treatment may be right for you depending on the extent of your concerns and the results you want to achieve. Your cosmetic dentist will help you make the best choice for your smile.  
What are Porcelain Veneers and Lumineers?
Veneers and Lumineers are custom-made thin covers that are bonded to the front surfaces of your teeth. This allows them to instantly hide several cosmetic concerns using just one treatment, such as discoloration, gaps, or chips. Overall, they improve the color, size, and shape of your teeth.
When compared to veneers made from other materials, porcelain and Lumineers are preferred because they are very thin while also closely mimicking your natural teeth. Not to mention, little to no enamel is removed during the bonding process. This makes the treatment minimally invasive while keeping more of your tooth's structure intact.
What are the Differences Between Veneers and Lumineers?
Although veneers and Lumineers are similar, there are also differences. Lumineers range from .2 to .3 millimeters in thickness, which is about the same as a contact lens. Their ultra-thin design allows them to be bonded to your teeth without needing to remove any enamel, so the treatment is reversible.
Using porcelain makes veneers thinner than those made from other materials, but they are still not as thin as Lumineers. They are generally .5 millimeters in thickness, so a small amount of enamel must be removed during the bonding process to ensure they sit flush on your teeth. Unfortunately, this will permanently alter your teeth. Although the treatment is not reversible, porcelain veneers may be more durable than Lumineers. In fact, it is common for veneers to last for 10 years or longer before needing to be replaced.
Which is Right for Me?
Choosing Lumineers or porcelain veneers near Sayville is a big decision. You will not need to make it alone. Your cosmetic dentist performs an initial consultation to evaluate your teeth and discuss the results you want to achieve to help you make the best choice.
If you have minor discoloration or small shape imperfections, Lumineers are an easy solution, especially if you are unsure if you want to commit to the procedure long-term. Porcelain veneers are often suitable for those who have darker tooth discoloration, chips, gaps, or minor alignment concerns. Your cosmetic dentist near Sayville will explain the pros and cons of each treatment to achieve a smile you will want to show off.
About Dr. Makadia
Dr. Makadia uses the latest treatments to create healthy, beautiful smiles. Besides general dentistry, he offers cosmetic services. If you are interested in veneers or Lumineers, he can help. Contact Sunrise Dental Service today to schedule your consultation for a picture-perfect smile.