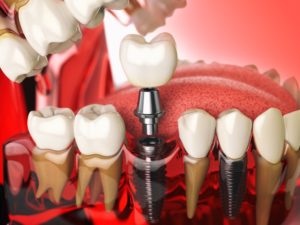 Several new advancements in dentistry now make it possible to preserve your teeth for longer than before. Despite these innovations, tooth loss remains a common problem. If you are among the 120 million Americans who are missing at least one tooth, you need an effective treatment to fill the empty space. While you could choose a traditional option, like a bridge, partial, or denture, you could also enjoy a more successful solution. Dental implants near Sayville give you the next best thing to your real teeth.
Benefits of Dental Implants
Dental implants are far different than traditional treatments because they replace both the root and the crown. By surgically placing an implant post into your jawbone, it acts as a new tooth root. This allows you to enjoy several benefits that are not possible with traditional treatments, such as:
High Success Rate: Dental implants have over a 95% 10-year success rate with the right aftercare.
Stops Bone Loss: The implant post stimulates your jaw to encourage new bone growth.
Stops Dental Drift: The improved bone density keeps your remaining teeth firmly in place to reduce your risk of tooth decay, gum disease, and additional tooth loss.
Protects Facial Structures: Maintaining your jawbone's density provides your facial structures with support for a younger-looking appearance.
Looks and Feels Natural: You can restore as much as 70% of your biting force while your restorations are made to look like real teeth.
Long-Term Solution: Dental implants can last for several decades, allowing them to be more cost-effective than other prosthetics.
Types of Dental Implants
Your dentist near Sayville can help you treat your tooth loss no matter how many teeth you are missing. Depending on your treatment plan, the process varies slightly.
Single Tooth
An implant post is surgically placed into your jawbone. After adequate healing occurs, an abutment is attached to the post to connect a custom-made dental crown.
Multiple Teeth
A bridge of prosthetic teeth is anchored to your jawbone using an average of 1 or 2 implant posts instead of dental crowns.
Full Arch
Avoid the slipping and irritation of a traditional denture using an average of 4 implant posts. Special abutments are place on the posts to secure your denture.
Candidate for Dental Implants
Most people who have good oral and general health are candidates for dental implants; however, you will require a thorough consultation. Besides a visual exam, a CT scan is used to assess your oral structures if necessary. Your medical history and lifestyle habits are also discussed to ensure there are minimal risk factors for implant failure.
Complete Your Smile Today!
Dental implants are the ideal solution to complete your smile. Enjoy the success and stability of a reliable treatment option.
About Dr. Makadia
Dr. Makadia provides quality dental care through all stages of life. He offers advanced services to improve your oral health and your quality of life. If you have missing teeth, he can help. Contact Sunrise Dental Service today to see if dental implants are right for you.