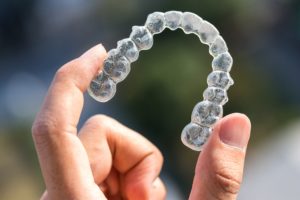 Are you ready to join more than 2.5 million people who have chosen the clear choice for a straight smile? That is great! Invisalign near Sayville allows you to enjoy a nearly invisible treatment to correct your bite and alignment issues. You benefit from many advantages that are not possible with traditional braces, like a restriction-free diet and easy oral hygiene. To make the most of your treatment, it is best to care for your smile and your aligners to ensure there are no unexpected complications down the road.
Care for Your Teeth and Gums
With the help of your cosmetic dentist near Sayville, you will make a true investment in your self-esteem by achieving a healthy, straight smile. During your treatment, it is important to remain committed to your oral hygiene to prevent certain dental complications, like tooth decay and gum disease.
It is best to brush your teeth at least twice a day and every time you remove your aligners from your mouth. This will prevent harmful bacteria from becoming trapped between your teeth and the aligners. If you cannot get to a toothbrush, rinse your mouth with water before putting them back into your mouth. Do not forget to floss every night and visit your dentist twice a year for a cleaning and checkup.
Clean Your Aligners
Take the time to clean your aligners with a soft-bristled toothbrush and clear antibacterial soap. Do not use any cleaners or soaps that contain colors or dyes because your aligners may become discolored, losing their translucent appearance.
Avoid Stain-Causing Foods
You should not eat or drink anything except water while wearing your aligners to prevent them from becoming stained or breaking. It is also best to avoid certain stain-causing foods if you cannot brush your teeth right away, like berries, coffee, or tomatoes. The residue from the darkly pigmented foods will remain trapped on your teeth, which can stain your aligners and your teeth if you do not brush before placing them back in your mouth.
Protect Your Aligners
Whenever your aligners are not in your mouth, place them in a safe, clean area. This not only prevents them from breaking but also keeps harmful bacteria off them. If you accidentally drop your aligners, sanitize them well before placing them in your mouth.
Even with the best care, an aligner can crack or break. If it happens, it is best to contact your dentist right away. They may advise you to switch to the next one in your series or they may need to replace it.
Get a Straight Smile Today!
Get the beautiful smile you deserve with the clear choice in orthodontics. See if Invisalign is right for you today!
About Dr. Makadia
Dr. Makadia strives to provide quality dental care to create long-lasting results for his patients. In addition to general dentistry, he offers many areas of specialty, including orthodontics with Invisalign. Contact Sunrise Dental Service today to get a straight smile with clear aligners.