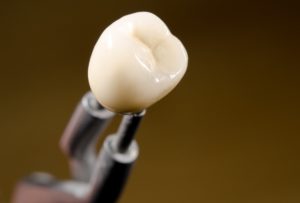 Do you have severely damaged teeth? Dental crowns near Sayville can save your smile. Although your dentist has discussed their benefits, you still are not convinced they are necessary. As a result, you are tempted to wait to have them placed. While this may seem like the convenient solution, this is never a good idea. If your dentist recommends dental crowns for compromised teeth, it is best to have them placed right away.
What are Dental Crowns?
Dental crowns are one of the most widely used restorative treatments because they are very versatile. They are custom-made caps placed over teeth to improve their health, function, and appearance. When you think about a crown, a dark metal cap often comes to mind. Now, you do not need to worry about a crown causing an eyesore when you smile. They are now made from all-ceramic materials to look like natural teeth. They are carefully crafted to match the size, shape, and color you need to improve aesthetics and function.
Why Do I Need a Crown?
If your dentist near Sayville recommends a crown, it is best to have the procedure sooner rather than later. The longer you wait, the more extensive the damage becomes. As a result, a simple crown may no longer be enough. In fact, you may end up needing to have your tooth removed.
Although they are only suggested when there are no other viable treatments, there are several reasons why your dentist may recommend a crown, such as:
Weakened Tooth: A tooth with significant decay or weakened from grinding the teeth has an increased risk of breaking. Placing a crown over it gives it an added layer of protection to allow it to stay strong and healthy.
Chip or Crack: When a tooth has suffered a significant break or crack, bonding may not be enough to save it. If it is left untreated, it susceptible to additional fractures and infection. A crown restores its integrity while also sealing out harmful bacteria.
Additional Procedures: it is not uncommon for a crown to be used in combination with other treatments, such as root canal therapy or a dental bridge. The crown plays an invaluable role in completing the treatment to save your smile.
What Can I Expect?
The process to receive a crown is fairly simple. You are given a local anesthetic to minimize any discomfort while your tooth is reshaped. This allows the crown to fit over it easily. Impressions of your tooth are taken to craft a custom-made crown. After your crown is ready, it is bonded to your tooth. It can last for 10 years or longer before needing to be replaced if you maintain your oral hygiene and regular appointments with your dentist.
If you have damaged teeth, do not put them at risk any longer. Save your smile with high-quality dental crowns.
About Dr. Makadia
Dr. Makadia strives to create healthy, beautiful smiles for his patients. He uses the best materials to create quality restorations. If you need a dental crown, he can save your smile with the exact restoration you need. Contact our office today to schedule your consultation.