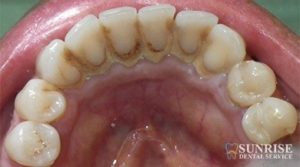 You know your teeth are vital for a healthy smile, but did you know your gums are equally important? The biggest threat to their health involves a preventable infection called gum disease. While it can be avoided, new research suggests as much as 85% of adults in the U.S. have a form of it. Unfortunately, most people are not aware their gums are infected, allowing it to go untreated. Without quick intervention, gum disease near Sayville can lead to serious oral and general health complications.
Complications of Gum Disease
Gum disease develops from bacteria found in tartar accumulations, which build from lack of proper oral hygiene and dental care. During the earliest stage of the infection, known as gingivitis, it causes the tissue to become red and swollen. It is common for the gums to bleed when brushing or flossing. At this point, the infection is easily treatable without causing any long-term damage.
If the infection is not stopped, it will progress to periodontitis, which causes your gums to separate from your teeth and the supporting bone. The previous symptoms will intensify while you will start to experience pain, tooth sensitivity, and persistent bad breath. As the supporting structures begin to deteriorate, your teeth may move out of alignment. In some cases, they may even fall out. Now, the damage is not reversible, but the infection can still be stopped with a proactive treatment plan.
If you fail to get intervention, advanced periodontitis will occur. You may see pus leaking from the tissue and deep pockets forming. The infection will eat away at your jawbone, causing your teeth to fall out.
Not only is your oral health significantly compromised, but your general health as well. The bacteria from the infection can enter your bloodstream. As it circulates throughout your body, it increases your risk of several complications, including heart disease, diabetes, respiratory infections, and Alzheimer's disease.
Treating Gum Disease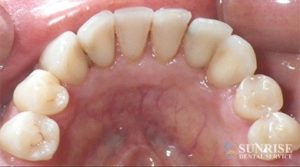 To restore your gum health, you need periodontal therapy near Sayville. The early stages of the infection can be treated with a deep cleaning. This involves removing tartar accumulations and smoothing the surfaces of your roots to help prevent future buildup.
When more advanced stages of the infection have been reached, you will need a more aggressive treatment plan, such as gum surgery. A laser is used to remove damaged tissue and bacteria. In addition, it also encourages the regeneration of new tissue. It provides an effective and less invasive alternative to methods used in the past.
Don't Wait. Call Your Dentist
At the first sign of the infection, do not wait. Contact your dentist right way for periodontal therapy.
About Dr. Makadia
Dr. Makadia provides comprehensive dental care for patients through all stages of life. He offers specialty treatments, like periodontal therapy to rehabilitate your smile. With laser-assisted gum surgery, he can restore your oral health. If you have gum disease, contact our office today to schedule an appointment.