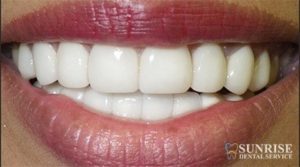 Your smile is one of the most important assets that you have that influence how you feel about yourself. Unfortunately, if you are like one-third of adults, you do not like how your teeth or gums look. As a result, you often feel insecure about your appearance. You do not have to live with your imperfections. Your cosmetic dentist near Sayville can help you get the smile of your dreams using customized procedures that cater to your needs.

Tooth-Colored Fillings
Tooth decay can be treated without using a dark metal filling. Instead, a composite resin material is customized to match your enamel color. This allows it to blend in seamlessly with your natural teeth, so no one will be able to tell that it is in place.
Composite Bonding
Chipped, cracked, or gapped teeth can be fixed using cosmetic bonding. A special bonding material is used to sculpt your teeth to improve their size, shape, color, and proportion. It will match the color of your enamel to create natural-looking results. After just one appointment, you will have the smile that you have always wanted.
All-Ceramic Crowns
Now, you do not have to let a metal crown cause an eyesore when you smile. Using all-ceramic material, you will have the restoration you need to rehabilitate the health of a damaged tooth while also improving its appearance. It will be designed by a dental lab to meet your exact specifications in terms of size, shape, and color to look and feel natural.
Porcelain Veneers
Cover an array of imperfections by attaching veneers to the front surfaces of your teeth. They are versatile, allowing them to be used to correct several issues, such as discoloration, chips, cracks, or abnormally shaped teeth. In some cases, they can even be used as an alternative to braces to close gaps or make your teeth appear straighter. After just two appointments, you will have a beautiful, straight smile with results that can last for an average of 10 years.
Lumineers
Now, you can enjoy the benefits of veneers without having to alter the structure of your teeth. They can drastically transform their appearance while being noninvasive and reversible for a simple and effective procedure to get the results you want.
Laser Gum Shaping
If you have a gummy smile or your gum line has been damaged by periodontal disease, you can benefit from laser gum shaping. This minimally invasive procedure will sculpt the tissue to reveal more of your tooth's surface while also creating an aesthetically pleasing gum line.
Get the Smile of Your Dreams Today!
You can make an investment in your self-esteem with your cosmetic dentist. Get the smile that you have always wanted with a treatment plan that is right for you today.
About Sunrise Dental Service
Dr. Makadia is a trusted general and cosmetic dentist in the community. In addition to promoting your oral health, he also delivers beautiful smiles by doing crowns, tooth-colored bonding, laser gum reshaping, veneers, Lumineers, bridges, and more. Visit his smile gallery to see the transformation you can achieve with cosmetic dentistry.