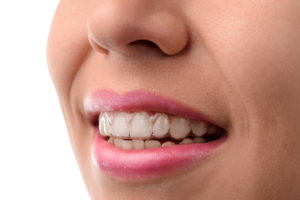 When you suffer from crooked, tilted, or gapped teeth, it can cause you to feel insecure about your appearance. To improve your confidence, you know that braces can help. Did you know that there are other benefits to a straight smile other than just aesthetics? By properly aligning your teeth, you can also promote your oral health; however, you do not want to use traditional braces. Now, you do not have to with Invisalign near Sayville. With the clear aligners, you can get an attractive, healthy smile using a discreet solution.

Improve Your Oral Health
The alignment of your teeth not only influences your self-esteem but your oral health as well. By aligning them, you make them easier to clean, reducing your risk of tooth decay and gum disease. You also lessen the potential for a dental emergency by correcting protruding or rotated teeth that will take the brunt of the force during an impact or injury to the face.
If your bite is not properly aligned, braces can help to prevent additional complications that can decrease your quality of life, such as a disorder of the temporomandibular disorder or bruxism.
To make an investment in your smile, you can now use clear aligners from your cosmetic dentist near Sayville. As a discreet and sophisticated solution, 27% of orthodontic patients are now adults. You can join them by benefiting from the clear choice.
Get the Facts about Invisalign
Not sure if Invisalign is right for you? Here are the answers you need to your top questions about the treatment.
How Long Does Invisalign Take?
Impressions of your mouth are taken to create a series of aligners to gradually move your teeth into position. You will wear each one for about 22 hours per day. You will switch to the next aligner in the series after about one week. On average, it takes 12 months to complete your treatment, but this will vary depending on how many aligners you need.
How Much Does Invisalign Cost?
Invisalign costs about the same price as traditional braces. The amount you can expect to pay will vary depending on several factors, such as how many aligners you need and your dental insurance.
How Do I Care for the Aligners?
In addition to brushing and flossing your teeth, you will also need to care for your aligners. Clean them daily using a soft-bristled toothbrush and a clear antibacterial soap. When you remove them, rinse them with water before placing them in your mouth.
Is Invisalign Right for Me?
Invisalign can be used to correct several bite and alignment issues. To determine if you are a candidate for the clear aligners, you will need to schedule a consultation with your cosmetic dentist.
Get a Straight Smile Today!
If you are ready to start your journey to improved oral health and confidence, it is time to see if Invisalign is right for you.
About Dr. Makadia
Dr. Makadia is committed to providing personalized solutions to help his patients achieve healthy, beautiful smiles. If you are ready for Invisalign, Dr. Makadia can help. Contact Sunrise Dental Service today to see if you are a candidate.