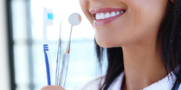 The health of your smile is important to you, which is why you visit your dentist near Sayville twice a year for a cleaning and checkup. While these appointments are necessary for keeping your teeth and gums healthy, they are only half of the care you need. In between your routine appointments, it is best to be proactive about your dental health, so you do not receive unexpected news at your next appointment. With simple changes to your daily routine, you can help to promote a healthy, beautiful smile.

Combat Tooth Decay
The biggest threat to the health of your teeth involves tooth decay. While it is believed that they only affect children, they can develop in anyone—no matter your age. To help prevent cavities, your first line of defense is your toothbrush.
It is recommended that you brush your teeth at least twice a day using a soft-bristled toothbrush and a fluoride toothpaste; however, the American Dental Association reports that only 7 out of 10 adults do so. If you are among those who skip brushing before bed, it is time to revamp your oral hygiene habits. Spend at least three minutes twice a day cleaning all surfaces of your teeth. Do not forget to brush your tongue.
Prevent Gum Disease
In addition to tooth decay, gum disease can also damage your smile. Although it is easily preventable, the Centers for Disease Control and Prevention estimates that over half of adults have a form of the infection.
To reduce your risk for it, it is best to floss in between each tooth every night before going to bed. Use a high-quality dental floss that is supported by the American Dental Association. Form a "C" shape around a tooth with the floss and gently slide it from the crown to the gum line and back up again.
Eat Healthy
You have heard the saying, "you are what you eat," which is true when it comes to your general health, but it is also true for your teeth and gums as well. To promote a healthy smile, it is best to eat a well-balanced diet that is limited in sugars and starches.
Don't Delay Care
Despite your best efforts, complications can develop in between regular appointments with your dentist in Bohemia, like a toothache. If an unexpected problem arises, do not wait until your next dental visit. Instead, schedule an appointment right away to find the cause of the issue to rehabilitate your oral health.
Get a Healthy Smile
With the right care at home and from your dentist, you can help to ensure that you develop and maintain a healthy, beautiful smile. It is never too late to invest in yourself with improved oral hygiene habits.
About Dr. Makadia
Dr. Makadia is committed to providing high-quality dental care to produce lasting results. With personalized solutions, he will help you achieve optimal oral health. If it has been a while since your last dental visit, contact Sunrise Dental Service to schedule your appointment.