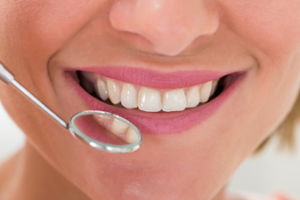 The new year is a time for change as you plan for better months ahead. As you set new goals and resolutions, why not take the time to invest in your oral and general health? You know that the health of your teeth and gums are vital for a beautiful smile, but did you also know that they are important for your overall well-being? Your oral health is the gateway to your general health. This year, your dentist near Sayville can help you improve your quality of life with a healthy smile.

Promote a Healthy Body
Your oral health is not just important for an attractive smile, but your general health as well. When an issue develops with your teeth or gums, it can negatively impact your well-being, leading to several health complications.
When the teeth become damaged or lost, it can make it difficult to chew many foods. As a result, you may have to limit your diet, which can lead to nutritional deficiencies. Complications with the gums can also cause serious problems throughout the body, especially if gum disease occurs.
Gum disease is an infection that develops due to poor oral hygiene habits. When it is not quickly treated, it destroys the supporting structures of the teeth, leading to tooth loss; however, this is not the biggest risk.
The bacteria responsible for the infection can enter the bloodstream. As it circulates throughout the body, it can cause a wide range of complications, including heart disease, respiratory illness, and even Alzheimer's.
Get a Healthy Mouth and Body
As you invest in your well-being this year, start with recommitting to your oral health. There are several simple ways you can reach your goals.
Brush Twice a Day:Use a soft-bristled toothbrush and fluoride toothpaste to clean your teeth twice a day for two minutes each session.
Floss Nightly:Clean between each tooth and around the gum line with dental floss each night before going to bed to prevent gum disease.
Eat a Balanced Diet:Limit your consumption of sugary and starchy foods. Not only are they bad for your waistline, but your teeth as well. Instead, chose plenty of fresh fruits and vegetables.
Visit Your Dentist:The American Dental Association recommends that everyone visits their dentist twice a year for a cleaning and checkup to prevent oral health complications.
Invest in Your Smile This Year
As you start your new journey to improved oral and overall health this year, take the time to invest in yourself. As you promote your dental health, consider improving the appearance of your teeth as well with your cosmetic dentist near Sayville. With a healthy, attractive smile, you will feel confident and beautiful all year long.
About Dr. Makadia
Dr. Makadia is committed to providing long lasting dental care for his patients. With personalized services, he will help you reach and maintain your oral health goals. If you are ready to invest in your dental health this year, contact Sunrise Dental Service today to schedule a consultation.