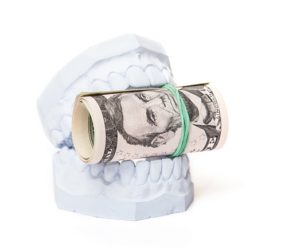 Everyone loves to get a good deal. Nothing is more satisfying than purchasing an expensive product at a discounted rate. While amazing prices are thrilling, there is one area where you should not solely focus on the price tag. If you are ready to replace your missing teeth with dental implants, the amount you will spend should not be at the top of your priority list. By saving a few dollars, it could end up costing you more than just money. Discounted dental implants could lead to failure down the road. Instead of focusing on the price, it is better to look at a dentist's qualifications and experience to ensure you are making a wise investment—even if you end up paying more than at another location.

Choose Qualifications and Experience
It is no secret that dental implants cost more than traditional forms of tooth replacement, like dentures. However, the extra money you spend will be well worth it to promote your final results and the long-term success of the procedure.
While there are many locations that offer them at a more affordable rate, these places may not have the proper training. Instead of looking at the price first, look at the dentist's training to ensure they are qualified to handle the procedure. Then, look at their experience to see their track record for success. With the right qualifications and training, they should also be supported by various dental organizations, like the American Academy of Implant Dentistry.
Look for Cost-Saving Opportunities
After you have a few dentists in mind to handle your procedure, you can then begin to look for cost-saving opportunities.
The geographical location will influence the price. Generally, if you choose a dentist who serves a larger geographical area, the procedure will tend to be more competitively priced.
In some cases, you may be able to better accommodate your budget by using your dental insurance. While your benefits often do not pay for dental implants, they may cover a portion of the treatment, such as if tooth extractions or bone grafting is necessary.
To help pay for any out-of-pocket costs, consider third-party financing. Many dentists work with CareCredit, which offers a line of credit that can be used toward dental expenses, like tooth replacement procedures.
Get a Complete Smile
When it comes to replacing your missing teeth, your top focus should be on the quality of the results you will receive, not the amount you want to pay. When you shop for dental implants, it is better to base your decision on qualifications and experience instead of the cost for the procedure.
About Dr. Makadia
Dr. Makadia provides comprehensive dental care to the community. In addition to general dentistry, he offers many areas of dentistry, including dental implants. If you have any questions about the procedure, please contact Sunrise Dental Service to schedule a consultation.