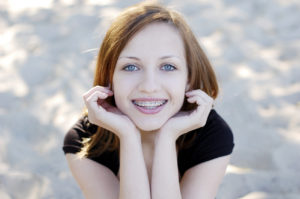 Your confidence is directly linked to how you feel about your appearance, like having attractive teeth. Unfortunately, one-third of adults do not like how their smiles look, causing them to feel insecure. Often, the biggest concern involves alignment problems, like overcrowding and gaps. Braces offer the ideal way to straighten your smile while giving your confidence a boost. By correcting alignment issues, you will not just hold your head up high with increased self-esteem, but improved oral health as well.

Benefit from a Straight Smile
Properly aligned teeth are a simple way to help you look and feel your best. However, braces are also an excellent investment for your oral health. When the teeth are in their ideal positions, they are easier to clean, reducing your risk for tooth decay, gum, disease, and dental emergencies. Not to mention, it can even help to resolve the complications of TMJ disorders that are due to an improper bite.
Now, you have multiple options when it comes to orthodontics. In addition to traditional metal braces, you can also get the straight smile you have always wanted using clear aligners.
Benefit from Traditional Braces
Traditional metal braces have been the trusted orthodontic system for well over 100 years as they are effective for treating even the most complex alignment and bite issues. Wires and brackets are attached to the teeth to gradually pull them into position. Now, new advancements make them less noticeable than ever before, such as with the use of tooth-colored brackets and wires. You will achieve the results you want using an affordable and convenient solution.
Benefit from Invisalign
If you do not want to further add to your insecurities by using traditional braces, Invisalign may be right for you. This system uses a series of clear plastic aligners that are worn over the teeth to gradually move them into position. Since they are clear and removable, it offers a discreet and less restrictive treatment when compared to metal braces. In addition, the treatment time is often shorter, which is about 12 months. While they may cost more, they allow you to enjoy a sophisticated option. However, Invisalign cannot be used for everyone. If you have significant alignment issues, you may need traditional braces.
Get a Straight Smile Today
Orthodontics allows you to invest in your confidence, quality of life, and oral health. If you have been considering getting a straight smile, it is time to contact your dentist to schedule a consultation. After an examination, he will discuss your treatment options to help you choose the best solution for your needs and your lifestyle.
About Dr. Makadia
Dr. Makadia provides quality dental care to the community to provide long-lasting results. In addition to general dentistry, he offers many areas of dentistry, including orthodontics. He provides traditional braces and Invisalign to help you achieve your dream smile. If you are ready to invest in yourself with braces, contact Sunrise Dental Service today to schedule your consultation with Dr. Makadia.