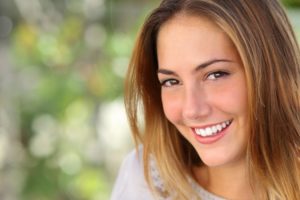 If you are tired of living with an unattractive smile, you are finally ready to take the next step to see your cosmetic dentist. To transform the appearance of your teeth, you have heard many great things about Invisalign and veneers because they are effective treatments. However, you are not sure which is the best option for you. Although they are both popular, only one may be suitable for you. Depending on the flaws you have and the results you want to achieve, you need one solution.

Benefits of Invisalign
Invisalign is the most popular orthodontic treatment for adults who want to straighten their teeth to improve their confidence and oral health. Unlike traditional braces, no metal wires or brackets are used. Instead, a series of clear plastic aligners are worn over the teeth to gradually move them into position. This allows the treatment to be nearly invisible while also providing effective results in about one year.
Although Invisalign is an effective cosmetic treatment, it will only improve the alignment of your teeth. If you have other issues, like discoloration or chips, you will need additional procedures to improve the appearance of your smile.
Benefits of Porcelain Veneers
Often, porcelain veneers are used to improve the alignment of the teeth because the thin shells can cover gaps and minor overcrowding. This offers a simple approach to make your teeth appear straighter in just two appointments. However, if your alignment and bite issues are complex, they may not be the right option for you.
Unlike Invisalign, porcelain veneers are quite versatile so they can be used for more than just alignment concerns. They can also be used to hide chips and cracks while giving abnormally shaped teeth a more attractive appearance. Overall, your smile will become shapelier and more proportionate while also becoming several shades whiter by hiding discoloration.
If you have several cosmetic flaws, veneers may be the best option. Not only will your smile become straighter, but you can cover a wide range of imperfections in as little as two appointments. However, it does involve permanently altering your tooth's structure; whereas, Invisalign does not.
Which is the Best Option?
Both cosmetic procedures are safe and effective when used on the ideal candidate. Depending on the specific issues you want to correct and the results you want to achieve, your dentist will help you decide which treat is right for you.
Get an Attractive Smile Today
If you are ready to improve your confidence, it is time to discover your options. Schedule a consultation with your cosmetic dentist to start your journey to a beautiful smile.
About Dr. Makadia
Dr. Makadia provides high-quality dental care to not only improve the health of the teeth and gums, but to also enhance their beauty. He offers a wide range of cosmetic procedures to give you a flawless smile. If you have questions about cosmetic procedures, please contact Sunrise Dental Service to speak with him about your options.