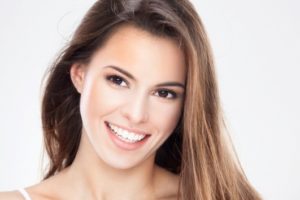 Let's face it, not everyone is born with a naturally attractive smile. In addition to genetics, poor lifestyle habits, bad dental hygiene, and trauma can lead to several cosmetic imperfections that cause you to feel insecure. Although it may seem like you have no choice but to live with the flaws, you can get the perfect smile you have always wanted with porcelain veneers in Sayville. At Sunrise Dental Service, Dr. Makadia will transform the appearance of your teeth using a minimally invasive procedure.

What are Porcelain Veneers?
Porcelain veneers are thin shells that are bonded to the front side of the teeth to cover cosmetic flaws. Overall, they improve their size, shape, and proportion to enhance your smile. When compared to veneers of the past, those made of porcelain are thinner. As a result, less of the tooth's enamel is removed during the bonding process. This allows the procedure to be minimally invasive. In addition, porcelain closely mimics the appearance of enamel, so it looks natural as light reflects off it. With the right care, it will also be stain-resistant so your new smile will stay white.
How Can Porcelain Veneers Help Me?
Veneers are quite versatile, allowing them to be used to cover an array of issues. Often, they are used to make severely discolored teeth appear whiter—perfect for those who have stains caused by medication. Often, they are used to improve the size and shape of the teeth, such as those that are chipped, cracked, or shorter than average. In some cases, they can also be used as an alternative to orthodontics by covering alignment issues.
What Can I Expect During the Procedure?
After an initial consultation, a customized treatment plan is created to begin transforming your smile. During the first appointment, your teeth are cleaned and prepared. A small amount of enamel is removed to ensure they sit flush while creating a secure bond. Dr. Makadia will then take impressions, which are needed to make your permanent veneers. While you wait for them to be ready, he will attach temporary ones. In about two weeks, you will come in for your second appointment to have the final veneers bonded in place.
How Long Do Veneers Last?
On average, veneers will last about 10 years before needing to be replaced. However, there are several things you can do to promote their longevity. It is best to use nonabrasive products when brushing and flossing to prevent scratches from developing on their surface. Although they are durable, they can still break so avoid using your teeth as tools, chewing on ice, and eating overly hard foods. You will also need to maintain your regular dental appointments.
Where Can I Get a Perfect Smile?
If you are ready to stop feeling insecure about your teeth, it is time to schedule your consultation with your cosmetic dentist in Sayville. Dr. Makadia will give you the perfect smile you have always wanted in just two appointments.