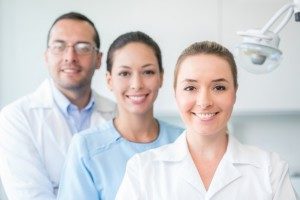 Next to your home oral hygiene, the care you receive from your dentist is essential for dental health. The American Dental Association recommends everyone visits their dentist every 6 months for preventive care. However, over time, your dental needs are going to change. As a result, you need a dentist in Sayville who offers more than just preventive care. You need a dentist who offers complete dental services through all stages of life. At Sunrise Dental Service, Dr. Makadia offers an array of services to meet your needs– both today and in the future.

General and Preventive Dentistry
Your preventive dental care is vital to protecting the health of your teeth and gums. With regular checkups and cleanings, potential dental concerns are detected early for prompt intervention. This allows us to prevent future dental problems to keep the risk for costly and invasive treatments to a minimum. At Sunrise Dental Service, you will enjoy an array of preventive and general dentistry services, including:
Hygiene and Cleanings
Oral Cancer Screenings
Digital Imaging
Bruxism Treatment, Nightguards, and Mouthguards
Fillings
Dental Sealants
Tooth Extractions and Wisdom Tooth Removal
Sweet Air Sedation
Periodontal Therapy
Restorative Dentistry
Despite preventive care, there may come a time when you need restorative dentistry to rehabilitate dental health. With Sunrise Dental Service, you benefit from in-office restorative dentistry. We offer the services you need to regain a healthy smile, including:
Traditional Crown & Bridge
Root Canal Therapy
Bonded Porcelain Restorations
Dentures and Partial Dentures
Cosmetic Dentistry
The appearance of your smile is vital to your confidence. However, few people are born with a naturally-attractive smile. To enhance the appearance of your teeth and gums, we offer a diversity of effective cosmetic procedures to transform your smile, including:
Porcelain Veneers
Zoom! Teeth Whitening and At-Home Whitening
Full Mouth Reconstruction
Tooth-Colored Fillings
All-Ceramic Restorations
Soft Tissue Laser Services
Lumineers
Orthodontics
Specialty Services
Dr. Makadia and our team at Sunrise Dental Service are proud to offer many areas of specialty care, including dental implants. As the most preferred form of tooth replacement, we offer implant placement, implant restoration, and an array of implant retained prosthetics to give you a complete, healthy smile.
We strive to provide our patients with complete dental care, no matter the situation. As a result, we are always here for our patients, even in times of emergency. With emergency dentistry services, we provide same-day care to help you during the difficult times. No matter if you have had a tooth knocked out, a restoration fall off, or have a sudden toothache, we will treat your emergency with quality, compassionate care.
Complete Dental Services
When it comes to the health of your teeth and gums, you need a dentist near Sayville who offers the exact services you need. At Sunrise Dental Service, we offer complete dentistry through all stages of life. We will provide you with individualized care to help you reach your oral health goals. If you are ready to benefit from complete dental care from one location, contact Sunrise Dental Service today to schedule a consultation.