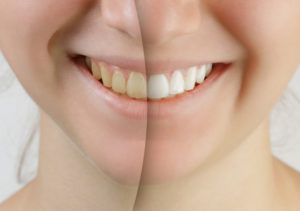 When your bright white smile starts to turn brown or yellow, it is no laughing matter. Tooth discoloration can quickly cause your self-esteem to decrease as your smile looks years older than what it truly is. While you cannot avoid staining of the teeth, there are several factors that increase discoloration, such as coffee, poor oral hygiene, and tobacco. Now, you can restore a youthful, confident smile with Zoom Whitening in Holbrook. As a cosmetic dentist, we offer the most preferred whitening treatment to remove dark stains from your teeth.

Why Choose Zoom Whitening?
Your smile plays a vital role in your confidence as research shows an attractive smile positively impacts your social and career engagements. When you start to see signs of discoloration, you might be tempted to try over-the-counter whitening products. Although these products are affordable and convenient, they do not contain professional-grade whitening agents. As a result, you will not get noticeable or lasting results.
With professional teeth whitening in Holbrook, you will achieve drastic results that last using the most preferred treatment. The Zoom system is a professional bleaching process that contains 25% hydrogen peroxide. Using a special light to activate the whitening agent, the enamel is deeply penetrated to remove tough stains. You can whiten your teeth by as much as 10 shades using our in-office whitening kit.
How Does Zoom Whitening Work?
To benefit from this amazing whitening system, we will first need to perform an initial consultation. This allows us to determine the cause of your discoloration and if your teeth are healthy enough for the treatment. If you are a candidate for the procedure, we will apply a layer of protection to your gums to reduce irritation. Then, we apply the professional-grade whitening gel to your teeth. Next, we use a special light to activate the whitening agents in the gel.
The gel will remain on your teeth for about 15 minutes. While you wait, you can sit back and relax as you will experience no discomfort. We will repeat this process three times in 15 minute intervals. Your entire procedure will take about an hour. At the end of the procedure, you will see drastic results as a new, bright white smile shines through.
While the procedure is safe, effective, and comfortable, some people do experience slight tingling sensations immediately after the treatment. This is due to the light, which produces minimal heat. Although sensitivity is rare, you may want to use a sensitivity toothpaste prior to the treatment to lessen any potential discomfort.
How Can I Get a Whiter Smile?
If you are ready to regain your confidence with a beautiful smile, you need to schedule a consultation with Sunrise Dental Service. We will perform the consultation necessary to create a treatment plan using our in-office treatment. Of, if you prefer, we also offer a take-home kit to whiten your teeth around your own schedule.
Restore a beautiful smile today with the Zoom Whitening System. Contact our office to schedule your consultation.