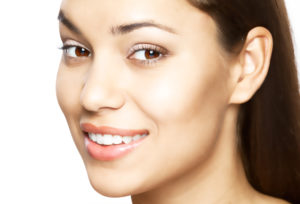 If you are ready to correct the appearance of your smile, it is important to understand that not all dentists are the same. For high-quality results, you need a dentist who specializes in cosmetic dentistry. A cosmetic dentist is different than a general dentist as they have undergone more extensive training to offer advanced treatments. As a cosmetic dentist in Holbrook, Dr. Makadia offers an array of services to enhance the appearance of your smile.

What is Cosmetic Dentistry?
Cosmetic dentistry involves procedures and services to enhance the appearance of the teeth. However, certain cosmetic procedures can fall into other areas of dentistry as well, such as restorative dentistry. The American Academy of Cosmetic Dentistry states that the role of cosmetic dentistry is to help maintain the health, function, and appearance of the teeth for a lifetime. By combining science with the art of esthetic dentistry, we will help you achieve high-quality results with a smile you love.
How Can Cosmetic Dentistry Help Me?
Due to several advancements in dentistry, cosmetic procedures are now less invasive while producing high-quality results. No matter if you need a chipped tooth fixed or a more invasive procedure, cosmetic dentistry will restore the health of your teeth while promoting the appearance of your smile. Based on your individual needs, you may benefit from:
Porcelain Veneers: Drastically transform the appearance of your teeth with a minimally invasive procedure. False fronts are bonded to the teeth to enhance the shape and appearance of your teeth for a flawless smile.
Teeth Whitening: The Zoom! Whitening System can reverse tooth discoloration by as much as 10 shades. You can whiten your teeth at home or in our office for a youthful, bright smile.
Full Mouth Reconstruction: If your teeth are severely damaged, you may need full mouth reconstruction to restore the health, function, and appearance of your teeth. Full mouth reconstruction often consists of multiple procedures for high-quality results.
Tooth-Colored Fillings: Enjoy dental fillings that match the color of your enamel for repairs that blend in seamlessly with your natural teeth.
All-Ceramic Restorations: All-ceramic restorations look like natural teeth to restore the health of a tooth without hurting the appearance of your smile. The durable and natural-looking restorations will promote the appearance of your smile while protecting your tooth's integrity.
Soft Tissue Laser Services: If you have a gummy smile or a smile that is damaged by gum disease, soft tissue lasers can help you. The noninvasive laser provides accurate and precise results for a flawless smile.
Lumineers: Lumineers are among the most preferred form of dental veneers. The thin false fronts will enhance the beauty of your smile while covering cosmetic flaws.
Transform Your Smile Today
Sunrise Dental Service is proud to offer an array of cosmetic dental procedures. Dr. Makadia will evaluate your smile and discuss your goals to create a customized treatment plan. Get the beautiful smile you have always wanted with cosmetic dentistry in Holbrook. Contact Sunrise Dental Service today to schedule your consultation for a beautiful smile.