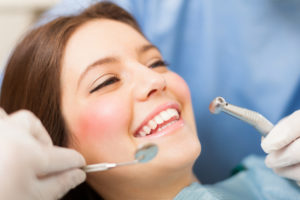 Gum disease is a very common dental problem with roughly 3 million cases diagnosed in the U.S. each year. While gum disease is fairly common, it is easily preventable and treatable when caught in the early stages. Unfortunately, too many people do not recognize the symptoms of early gum disease. As a result, the condition goes untreated, leading to tooth loss and serious overall health problems, like cardiovascular disease. As your dentist, we want to see you protect your oral and overall health. We have the information you need to prevent gum disease in Ronkonkoma. However, should gum disease develop, we provide periodontal therapy.

What Causes Gum Disease?
Gum disease is an infection that occurs in the gum tissue. Our mouths naturally contain bacteria. Brushing and flossing are needed to remove bacteria levels by keeping plaque and tarter accumulations to a minimum. When you do not brush and floss your teeth correctly, plaque and tarter accumulate around the gum line. Bacteria love the accumulations, causing bacteria levels to increase.
Over time, the gum tissue will become infected due to the bacteria. In the early stage of the infection, known as gingivitis, you can stop the infection and fully treat any damage that may have occurred. Unfortunately, many people do not notice the signs of early gum disease. The infection goes untreated, causing it to spread into surrounding tissues and severely damaging the teeth. As a result, tooth loss is likely. In addition, the bacteria can spread into the bloodstream, causing serious and potentially deadly overall health complications. Thankfully, you can easily prevent gum disease.
How Can I Prevent Gum Disease?
Gum disease is easy to prevent with the right oral care. You need to brush your teeth twice a day using a soft-bristled toothbrush and fluoride toothpaste. Brush your teeth for three minutes each time. You will also need to floss your teeth each day to remove plaque and tarter from around the gum line. In addition to your home care, you also need to visit your dentist twice a year for a regular cleaning and checkup. Your dentist will remove plaque and tarter left behind when brushing and flossing while detecting any signs of gum disease for prompt treatment.
There are certain lifestyle habits that may increase your risk for gum disease, such as tobacco use. In addition, certain medications and medical conditions, like diabetes, can increase your risk for the infection. If you are at risk for gum disease, we can recommend additional preventive steps to prevent the infection.
Where Can I Get Treatment?
If you suspect you have gum disease, you need to schedule an appointment with Dr. Makadia in Ronkonkoma. Dr. Makadia is specially trained to treat gum disease while preventing any future damage. In addition, we are able to restore the function and appearance of teeth and gums damaged by gum disease,
If you are in need of a preventive appointment or periodontal therapy, it is time to call Sunrise Dental Service to schedule an appointment.