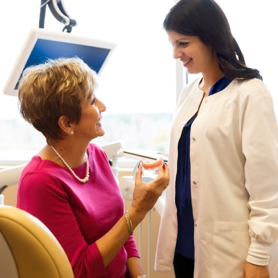 Dentures remain the most affordable and convenient means to replace missing teeth with approximately 20 million people in the United States using dentures for tooth replacement. Now, dentures use high-quality materials to make them more durable and comfortable while enhancing a natural appearance. However, even with advancements in dentures, dentures are not indestructible and can become damaged. Since you heavily rely on dentures to eat and speak, you need to have them repaired immediately. We offer repair for dentures in Holbrook to quickly fix damaged dentures.
Fixing Damaged Dentures
Dentures are made to withstand normal oral functions. With the right care, dentures can last for years. However, they will need to be replaced about every 7 years due to shrinkage of the gums. Even with the right care, your dentures can become damaged.
Although dentures replace missing teeth, they are not as good as your natural teeth. As a result, they can become damaged from everyday wear and tear, from accidently dropping them, or from trauma to the mouth. No matter the cause of the damage, you will need to have your dentures repaired promptly.
Often, when a denture breaks, such as if a prosthetic tooth chips or the arch cracks, many will try to fix the denture with DIY methods. We strongly recommend you do not try to repair dentures yourself. If you try to repair the denture, you can cause more extensive damage. What was just a simple repair has now turned into the need for a new denture.
You should not use broken dentures. You will have difficulty eating and speaking if your dentures become damaged. As a result, this qualifies as a trip to your dentist who repairs broken dentures in Holbrook. We will quickly access the damage to provide the appropriate repair. However, if the dentures are too severely damaged, you may require a new denture to be made. No matter if you need a simple repair or a new set of dentures, we will quickly restore your smile and oral functions with high-quality dentures.
Preventing Denture Damage
There are several things you can do to try to prevent damage to your dentures. When your dentures are not in your mouth, make sure they are properly stored and protected. In addition, do not use any products that are not specifically designed for denture care. Always keep your dentures in a soaking solution when they are not in your mouth to prevent them from drying out. Finally, handle your dentures with care to avoid accidently dropping them.
Dentist for Broken Dentures
At Sunrise Dental Service, we provide same-day denture repairs as part of our emergency services. No matter if you have accidently dropped your dentures or bone atrophy has occurred, we will quickly get you into our office to access the problem. We will provide you with the repair you need to restore the comfort and function of your dentures in just one day. However, if your dentures are not able to be repaired, we will help you with a new denture. Contact our office today for same-day denture repair.