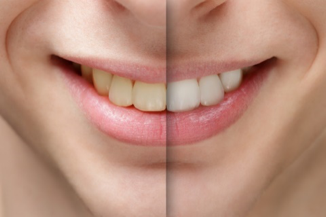 Are you ready for a whiter, brighter smile? It is time to give professional teeth whitening near Ronkonkoma a try. At Sunrise Dental Service, we offer the Zoom! Whitening system to brighten your smile in less than an hour. The safe and effective whitening treatment will turn back the hands of time to give you a younger looking smile for added confidence. Our whitening agent deeply penetrates the enamel to reverse the signs of dark tooth discoloration from aging, foods, medications, and even lifestyle habits.
Get a Whiter Smile with Zoom! Whitening
Often, when suffering from tooth discoloration, many turn to over-the-counter whitening products first. However, you will quickly come to find that these products do not produce very noticeable results and if any results do occur, they do not last. Instead of throwing money down the drain on ineffective whitening products, you can get the drastic results you want with professional teeth whitening.
With the Zoom! Whitening system, you will see the difference in your smile. The whitening treatment will cause dark discoloration to fade away. Our powerful, yet safe bleaching gel is of professional-grade standard. When applied to the teeth, a special light is then used to activate the whitening ingredients. The gel and light are applied to the teeth in three 15-minute sessions during one appointment. The bleach penetrates the enamel to cause years' worth of stains and discoloration to fade away. In less than an hour, your smile will be as much as 8 shades whiter.
As the number one patient-recommended whitening system, you will benefit from the best results with minimal discomfort or tooth sensitivity. We apply a protective barrier to the gums and lips to ensure the whitening gel targets exactly where intended. The safe bleach solution is custom-made to minimize any tooth sensitivity or discomfort caused from whitening treatments. In addition, a special fluoride paste-gel is then applied to the teeth to further reduce discomfort and sensitivity.
Maintaining Your White Smile
After your whitening treatment, your results will last with the right aftercare. It is best to avoid any stain-causing foods, products, and habits that can cause discoloration to reappear. To help you maintain your new white smile, there are at-home touch-up kits that can be used.
In addition to our in-office Zoom! Teeth Whitening near Ronkonkoma, we also offer an at-home kit. You will benefit from the same amazing results over the course of a couple of weeks right from the comfort of your own home. We will provide you with the whitening gel and custom-made trays to ensure even application of the whitening gel. You will whiten your smile around your own schedule in just a couple of weeks.
Get a Whiter Smile Today
If your beautiful smile has started to dull, it is time to revitalize your smile with our Zoom! Teeth Whitening system. Turn back the hands of time and enjoy a whiter, more confident smile today. Contact Sunrise Dental Service today to schedule a consultation.