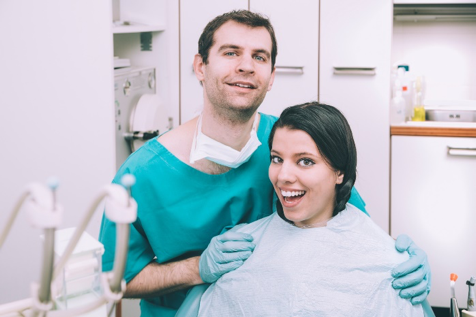 Periodontal disease affects roughly 80 percent of the adult population in the United States, making it one of the most common causes of heart disease, tooth loss, and stroke. To protect your oral and overall health, you need periodontal therapy. In the past, many procedures used for gum disease treatment were painful and invasive. However, advancements in technology now allow for effective treatment that is less painful and minimally invasive. Dr. Makadia offers laser dentistry in Holbrook to treat periodontal disease while enhancing patient comfort.
Laser Dentistry for Periodontal Disease
According to the American Academy of Periodontology, the use of lasers to treat gum disease have shown to provide positive results when compared to traditional treatments. Using diode soft tissue lasers, those undergoing periodontal therapy will have a virtually pain-free treatment that offers more precise results. The laser allows for Dr. Makadia to deliver more accuracy to minimalize damage to surrounding tissues while specifically targeting the area to be treated. Without the use of scalpels or sutures, recovery time is quicker and the risk for complications decreases. The lasers sterilize and cauterize the area, lessening the risk for infection and bleeding.
Nd: YAG Laser Treatment
Equipped with one of the best technological advancements to aid the treatment of periodontal disease, Dr. Makadia is able to treat difficult strains of bacteria. Using the YAG Laser treatment (Neodymium Yttrium Aluminum Garnet Laser), Dr. Makadia detoxifies soft tissues that are affected by gum disease, including the treatment of certain strains of bacteria that do not respond to traditional periodontal treatments. The effective treatment offers enhance comfort as many procedures do not even require anesthesia when the laser is used. The laser is very effective for cutting and coagulating dental soft tissues when used for surgical applications, such as with laser assisted gum surgery.
Laser Assisted Gum Surgery
Dr. Makadia offers periodontal patients Laser Assisted New Attachment Procedure (LANAP) for a virtually pain-free periodontal treatment. This state-of-the-art laser is effective for removing up to 99 percent of bacteria in infected tissue to treat gum disease. Since a laser is used, there is no need for scalpels or sutures. As a result, healing time is quicker while also protecting surrounding healthy tissues from potential damage.
The use of the laser enhances comfort and decreases treatment time because it is minimally invasive. As a result, you can expect your total treatment to take about half of the time required when compared to traditional treatments. As a result, recovery time is about 24 hours. This treatment is safe and effective for all periodontal patients, even those with certain medical conditions, such as diabetes or HIV.
Benefit form Laser Dentistry in Holbrook
As a laser dentist in Holbrook, Dr. Makadia uses this innovative tool to provide a modern, comfortable dental practice. With the use of the soft tissue laser for laser assisted gum surgery, Dr. Makadia delivers more comfortable and effective periodontal treatment.
If you are ready to benefit from a pain-free approach to periodontal therapy, it is time to contact Sunrise Dental Services to learn more about laser dentistry.