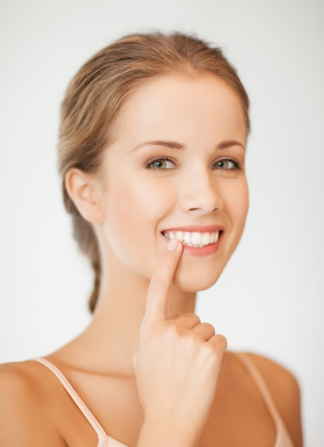 When it comes to improving the appearance of the teeth for a more attractive smile, you now have various options available. Among the most popular option involves the use of false fronts, which are bonded to the teeth to create a shapelier and more proportionate smile. Now, there are many different types of false fronts that can be used, including Lumineers and veneers. While both options are quite similar, there are some distinct differences between the two. As your dentist for Lumineers and veneers in Holbrook, Dr. Makadia explains the differences to help you determine which is the best option.
Lumineers vs. Veneers
Lumineers and veneers are very similar when used to hide certain cosmetic flaws. However, the process to receiving the two is very different. Both options involve attaching false fronts to the teeth to make the teeth appear straighter, whiter, and brighter. In addition, both are used to hide the appearance of cracks, chips, and other tooth abnormalities. As a result, you will benefit from a straight smile with teeth that are ideally shaped for a proportionate smile.
Both options offer a natural-looking appearance due to the material used. Lumineers and veneers are both made from porcelain, which means they are thinner than traditional veneers. As a result, the procedure to receive both is minimally invasive. Porcelain is also not subject to staining and easy to maintain, allowing you to make a true investment in the appearance of your smile.
While both options are quite similar, there are slight differences. With porcelain veneers, the bonding process requires the removal of tooth enamel, whereas, bonding Lumineers to the teeth does not. Since the enamel is left unchanged, Lumineers are considered to be reversible. Both options are strong and durable. With the right care, both will last as long as 10 years before needing replaced. However, with Lumineers, if you decide not to have them replaced, your natural teeth are left undamaged. This is not an option when choosing veneers.
No matter the option you choose, you will gain a more confident and attractive smile using a simple procedure. You will benefit from drastic results with the use of false fronts.
Can False Fronts Help Me?
In order to determine if either option is right for you, you will need to undergo a consultation with Dr. Makadia. Dr. Makadia will evaluate your teeth and discuss your desired results to determine which option will best meet your needs. Using a customized treatment plan, Dr. Makadia will begin transforming your smile with the solution that is right for you.
Your Dentist for a New Smile
If you are ready to get a movie star smile, it is time to see if veneers or Lumineers in Holbrook are right for you. Dr. Makadia offers a wide range of cosmetic procedures to drastically improve the appearance of your smile. To learn more about the use of false front and how they can help you, it is time to contact Sunrise Dental Service to schedule a consultation.