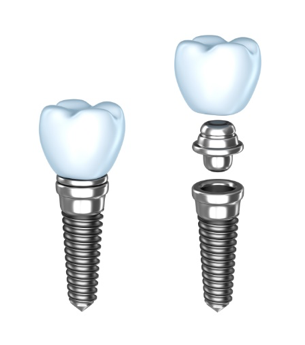 When you're missing teeth, it's no laughing matter. Whether you're missing one tooth, multiple teeth, or all of your teeth, an incomplete smile creates daily challenges. Not only does your confidence decline, but your quality of life as you find everyday tasks, like eating and speaking, more difficult. Not to mention, if you don't replace missing teeth, you become more prone to oral health problems, including additional tooth loss. Thankfully, you can regain your life and smile with dental implants in Ronkonkoma. With Ronkonkoma dental implants, you'll have a permanent, natural-looking solution to treat tooth loss.
Benefit from Dental Implants in Ronkonkoma
Dental implants are the most preferred option for replacing teeth because they look and function just as natural teeth. Plus, implants are permanently inserted into the jaw bone, so there's no need to have replacements or adjustments made. You'll have a lifelong new smile to increase your quality of life while protecting your oral health from additional damage.
Dental implants can be used to treat all degrees of tooth loss. For those who have one or more missing teeth, the teeth can be replaced individually, eliminating the need for bridges, crowns, or partial dentures. For those who are missing all of their teeth on one or both jaws, implant retained dentures use 4 posts to hold the prosthetic teeth in place, so you'll no longer need dentures.
To benefit for implants, you must have adequate bone density and healthy gums. During the first phase of the implant procedure, titanium posts are surgically inserted into the jaw bone to act as a new tooth root. The body naturally accepts the bio-compatible material to create a sturdy foundation for the prosthetic teeth.
After your jawbone has fused to the implant post, ceramic or titanium abutments are then placed onto the posts to hold the prosthetic crowns in place. The crowns are made to meet your individual specification in terms of size, shape, and color for a truly flawless smile.
Ronkonkoma Dental Implants
While many are hesitant to undergo dental implant surgery, the surgery itself is fairly simple with mild pain and discomfort. Any pain and discomfort can be resolved using pain medications and anti-inflammatories until the discomfort subsides within a few days.
Once your implants are in place, you'll care for them just as you care for natural teeth. However, you will need to take a little more time cleaning the implants to ensure they are free from bacteria. With the right care, your implants will last a lifetime, allowing you to make an investment in your smile.
At Sunrise Dental Service, we provide dental implants in Ronkonkoma to give you a complete smile. We use the best advancements in implant dentistry, combined with our qualifications and expertise to safely and effectively treat your tooth loss. We offer Ronkonkoma dental implants for all patients who are candidates, no matter your degree of tooth loss.
If you're suffering from tooth loss, please call our office at (631) 567-5566 to schedule a consultation. We're here to see you smile.