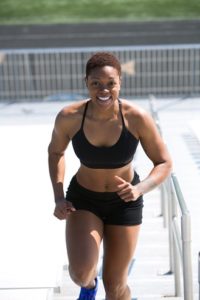 Regular exercise is essential to a trim waistline and optimal health. Since it's good for your body, you might not expect there to be any complications for your teeth; however, your dentist near Sayville advises you to take a few precautions to protect your smile. Believe it or not, vigorous exercise can damage your teeth, gums, and jaw if you aren't careful. Thankfully, there are a few simple tips you can use to safeguard your smile while investing in your wellness.
How Can Exercise Harm My Teeth?
There are several studies confirming a connection between oral health issues and exercise, particularly for people who grind or clench their teeth. It's often a habit of people who partake in high-intensity workouts or demanding sports. Participating in strenuous activities regularly can gradually weaken the teeth, especially the back molars. This can lead to fractures, chips, and even holes in your teeth.
Over time, the pressure from grinding can also strain your temporomandibular joints, which are located on either side of your face, connecting your lower jaw to your skull. You can develop a variety of symptoms, like difficulty opening and closing your mouth, facial pain, and headaches.
Not to mention, there's the risk of injury from impact or trauma to your face or mouth. 5 million Americans lose teeth each year from sports-related incidents. Besides knocked-out teeth, other complications can occur, like chips, fractures, and broken jaws.
How Can I Protect My Teeth During Exercise?
You can ensure you make the most of your workout without causing any lasting complications for your smile by following a few simple tips:
Wear an Oral Appliance: An oral appliance provides a protective barrier between your upper and lower teeth to reduce the pressure of grinding and clenching. In addition, it also protects your teeth, soft tissues, and jaw if there's impact to your face. Research shows a mouthguard can also lessen the severity of a concussion.
Breathe Through Your Nose: Mouth-breathing while exercising dries out the mouth, which decreases saliva that's important for protecting your teeth. It creates the perfect environment for bacteria to thrive, increasing your risk of tooth decay. It's better to breathe through your nose, which will improve airflow and relax your jaw and neck muscles. You'll reduce the likeliness of clenching your teeth and dry mouth to preserve your smile.
Skip Sports Drinks: Sports drinks claim to be healthy, but they contain a lot of sugar, which can erode your enamel. Instead, it's best to drink water to stay hydrated and keep your teeth healthy.
Protect Your Smile
Your dentist can provide you with a custom-fit oral appliance to protect your smile during exercise. You can invest in a healthy mouth and body with a regular exercise routine.
About Dr. Makadia
Dr. Makadia strives to provide quality dental care through a focus on prevention. He earned his dental degree from New York University, College of Dentistry. He has also completed advanced training in cosmetic and reconstructive periodontal surgery, orthodontics, and oral implantology. If you're ready to achieve your best smile, contact our office today for an appointment.