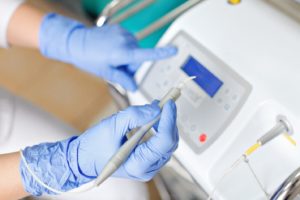 One of the hallmarks of a good dentist is that they invest in advanced technology. Using the latest tools in the field enables them to provide top-quality care to patients that is as efficient, comfortable, and effective as possible. One remarkable piece of technology that some practices have adopted is the Fotona Laser system. In this post, you will learn more about how dentists use lasers to protect and enhance patients' smiles.
The Fotona Laser
Fotona is the brand at the forefront of dental laser technology. Using their innovative system, dentists are able to perform a range of treatments on both hard and soft tissues in the mouth. Those treatments include:
Canker sore and cold sore pain treatments
Addressing tooth decay
Treating root canal infections
Treating gum disease
Removing gum inflammation
Reshaping gum tissue
Lip plumping
Biopsies
Exposing wisdom teeth
Tightening throat tissue that causes sleep apnea
Regenerating damaged nerves
Removing benign oral tumors
Benefits of Laser Dentistry
Many of the above-listed services can be carried out without the use of a laser. However, laser-based treatment is superior for a number of reasons:
Precision. A laser tends to be more precise than a scalpel or other traditional tools.
Lower risk of infection. Lasers have remarkable a bacteria-killing capability that greatly reduces the risk of infection.
Patient comfort. Laser-based treatments are much more comfortable than those carried out using traditional tools. In some cases, a laser can even eliminate the need for local anesthesia.
Faster treatments. Many laser dentistry treatments are faster than traditional ones. For example, root canal therapy treatment time may be reduced by up to 25%.
NightLase Sleep Apnea Treatment
In obstructive sleep apnea, soft tissues in the throat block the airway at night and hinder proper breathing. NightLase laser treatment by Fotona addresses that issue by tightening the tissues in the throat. It does so by causing the collagen in the oral mucosa tissue (mucous membrane) to contract. NightLase treatment requires a few sessions over the course of a couple of months. After you complete your therapy, you may be able to stop using your CPAP machine and enjoy unhindered breathing night after night.
Improve Your Smile's Appearance
Ready for a more attractive smile? Lasers can be used in a few different cosmetic treatments, including gum recontouring and lip plumping. During a gum recontouring procedure, a dentist uses the laser to trim away excess gum tissue that can make teeth look short, stubby, and disproportionately small. A lip plumping procedure involves applying laser heat to firm the skin around the lips and make the lips appear larger. It also stimulates the production of collagen within the lips.
Improve Your Oral Health
If your teeth or gums are in need of restorative care, laser dentistry can help you. A laser may be used to remove decayed dental tissue, kill disease-causing bacteria, remove certain types of oral tumors, and so much more — all while keeping you as comfortable as possible and with minimal side effects.
Are you interested in learning more about how lasers take dentistry to a higher level? Get in touch with a local dentist who uses this remarkable technology.
About the Author
Dr. Makadia is the leader of the team at Sunrise Dental Service. He is a graduate of the Yew York University College of Dentistry and has been in practice for many years. He is always looking for opportunities to invest in cutting-edge dental technology, which is why our office has a Fotona laser in it. To learn more about Dr. Makadia or laser dentistry, contact us at 631-567-5566 to ask questions or schedule a consultation.