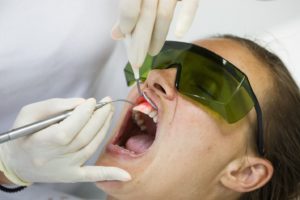 If you're like many adults, you probably thought tooth decay was the only threat to your smile; however, you were recently diagnosed with gum disease. Although you can avoid the infection with the right oral hygiene habits, the Centers for Disease Control and Prevention estimates at least 50% of adults have it. While it's the leading cause of tooth loss, it doesn't need to leave a lasting mark on your smile. As an alternative to scaling and root planing, many patients are turning to laser dentistry. You'll enjoy more accurate and effective results using a minimally invasive solution.
Scaling & Root Planing VS Laser Gum Therapy
Traditionally, the first step to treat gum disease involves scaling and root planing, also known as a deep cleaning. Special dental instruments are used to remove tartar buildup above and below the gum line. The roots are also smoothed to allow the gingival tissue to reattach to the teeth. Although this is effective, there is a brief recovery period, which can include some discomfort. Not to mention, the procedures may need to be repeated to restore optimal oral health.
Laser gum therapy resolves the common complaints of the traditional treatment. A highly concentrated beam of light targets the diseased tissue with pinpoint accuracy. The small fiber laser is about as wide as 3 human hairs to only treat infected tissue. This leaves healthy tissue untouched and undamaged. There isn't any bleeding, scalpels, or sutures.
Since the laser kills over 99% of bacteria, it will stop the infection in its tracks. Overall, it's a less invasive and more effective solution when needing gum disease therapy to restore a healthy smile quicker.
Benefits of Laser Gum Therapy
Laser gum therapy offers a variety of benefits not possible with traditional scaling and root planing, such as:
Kills over 99% of bacteria.
Increased precision and accuracy.
Cauterizes while it cuts to minimize bleeding.
Less invasive.
Reduced risk of infection.
Encourages the regeneration of healthy tissue.
Allows the gum tissue to reattach to the teeth.
Shorter recovery with fewer complications.
Candidate for Laser Gum Therapy
If you have active gum disease, you might be a candidate for laser dentistry. The FDA-approved treatment is recommended for patients who are showing signs of bone loss around the teeth, the laser if often the ideal solution. It's also an effective treatment for those who have increased probing depths, attachment loss, or loose teeth.
Your dentist will perform an initial consultation to evaluate your oral health to determine if laser dentistry is the right choice for you.
Choose Advanced Technology
You can stop the complications of gum disease and restore a healthy smile using the latest innovations in dentistry. Don't wait until it's too late to save your smile with laser gum therapy.
About Dr. Makadia
Dr. Makadia provides high-quality dental care to help his patients achieve and maintain superior oral health. He offers advanced solutions to treat complex issues, like gum disease. Dr. Makadia uses the Nd: YAG laser to target the infection. If you need periodontal therapy, contact our office today to schedule your consultation.