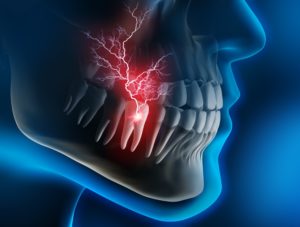 When you bite into an ice cream cone, do you feel a twinge of pain for a few seconds? Maybe you've had a toothache keep you awake at night? If your dental pain subsides without any treatment, it's common to feel the issue has resolved itself on its own. Many people believe an occasion toothache or sensitivity isn't a concern, but it's never a good sign. Pain and sensitivity indicate there's a problem brewing in your mouth. You need to see your dentist right away to find the cause of your discomfort to save your smile.
The Anatomy of a Tooth
Your teeth are composed of three layers. The hard-outer layer you see is your enamel. It's like a protective shell for the softer material below it, called dentin. Your dentin contains tiny tubes that connect to the nerve center of your tooth, known as your pulp. If the enamel or dentin are compromised, you will experience dental pain.
Types of Tooth Pain
There are several reasons you might experience pain or sensitivity. Your dentist will determine the source of your discomfort to provide the appropriate treatment.
Tooth Sensitivity
Tooth sensitivity occurs when a tooth is exposed to heat, cold, sweet foods, and even fast-moving air. Usually, the discomfort only lasts for a few seconds before dissipating. The sensitivity can be caused by several factors, like an untreated cavity, gum disease, a small fracture, or weakened enamel.
Since your pain is short-lived, it may not seem concerning now, but leaving the underlying cause untreated allows it to progress in severity. Instead of a simple treatment, like a desensitizing toothpaste, you might need a more invasive solution later on.
Severe Toothache
Nothing is worse than a constant, throbbing pain in your tooth. If you didn't experience any trauma to your tooth, you might be confused about what's causing your discomfort. There are several issues that can result in a toothache, like a cavity, break, or infection.


Whether your toothache only lasts for a few days or it never subsides, you need to see your dentist right away. If you wait to have your tooth treated, you might lose it. If decay or infection are the cause of your pain, you should seek immediate care to prevent needing an extraction.
Don't Wait to See Your Dentist
If you have a toothache, don't wait to see your emergency dentist. While you wait for your appointment, use an over-the-counter pain relieve to manage your discomfort.
About Dr. Makadia
Dr. Makadia strives to provide high-quality care through personalized solutions. He improves his patients' oral health to help them reach optimal wellness. With a variety of services under one roof, you'll enjoy the comprehensive care you need, even if you have a dental emergency. Dr. Makadia is available for his patients during unexpected oral health situations. He can stop your pain and save your smile. If you have a toothache, contact our office today for an appointment.