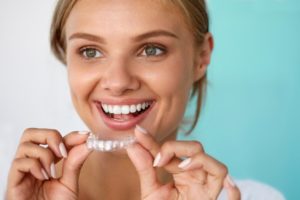 Have you thought about straightening your teeth? What has held you back? Perhaps you don't want the bulky metal brackets and wires that come with traditional braces. After all, straightening your teeth is supposed to help your confidence, not hurt it! Well, there is a more modern, sleeker, more discreet way to get the results you're looking for—Invisalign in Sayville. These clear aligners are barely noticeable when worn, helping you feel more confident while transforming your smile. But before you get started with Invisalign, here are five questions that you should know the answers to.
How does Invisalign work?
Unlike traditional braces that pull and force teeth to move, Invisalign uses custom-made clear alignment trays that gently guide your teeth into position. Wearing them for 20 to 22 hours a day ensures that your teeth get the full benefit of the trays. Every two weeks, you switch your trays for the next ones, bringing you one step closer to straight teeth.
What are the benefits of using Invisalign?
In addition to maintaining the aesthetic appeal of your smile during your treatment, Invisalign has many other advantages, including the following:
Healthier teeth. With all the nooks and crannies that crowded or crooked teeth have, it can be difficult to keep them clean. Straight teeth provide the ideal setting for maintaining a healthy smile.
Freedom to eat whatever you want. With traditional braces, you have to avoid certain foods, but not with Invisalign. The removable trays mean that you're able to enjoy your favorite foods.
Easy oral maintenance. Traditional braces can make caring for your teeth more challenging. With Invisalign, you can easily continue your routine and keep your teeth healthy.
Faster results. Invisalign can achieve the same results as traditional braces in a shorter time!
How long is treatment with Invisalign?
While treatment with traditional braces can last between 24 and 36 months, Invisalign typically takes between 12 and 18 months to complete treatment. Your cosmetic dentist in Sayville will be able to give you a more precise timeline based on your personalized treatment plan.
How do you take care of the Invisalign trays?
Every night after you've brushed your teeth, make sure you gently brush your trays with toothpaste. Rinse them off and put them back in your mouth. It's that simple and easy!
How much does Invisalign cost?
The cost of Invisalign treatment depends on many different factors, such as the severity of your teeth's misalignment and the duration of treatment. In some cases, Invisalign costs about the same as traditional braces. During your consultation with your cosmetic dentist, you can discuss the cost and potential payment options to make Invisalign more affordable within your budget.
If you're looking for a fast, effective way to have your teeth straightened, Invisalign may be the perfect solution for you. With its many benefits and simple process, it can help you get the smile you've always wanted without the hassle of traditional braces. The best way to get answers to these questions about your specific case is to discuss Invisalign with your cosmetic dentist. Schedule a consultation with them today to get started!
About the Author
In 2001, Dr. Makadia completed a post graduate program with the Mid America Orthodontics Society for fixed and removable orthodontics. He has completed over 500 hours of continuing education within the last years alone, including seminars about Invisalign. At Sunrise Dental Service, he offers Invisalign to his patients to help them achieve their smile goals. To schedule an appointment with him, you can call (631) 567-5566 or click here.