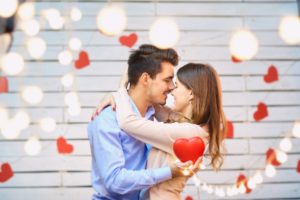 Valentine's Day is just around the corner. As you plan a day of romantic events with the special person in your life, is your smile kissable? If you are like two-thirds of adults, you probably do not like your smile. Although cosmetic issues can hurt its appearance, there is another factor that causes you more embarrassment—bad breath. You do not need to feel insecure about your mouth. Your dentist near Sayville has the solutions you need to feel and look your best.
Is My Mouth Kissable?
At some point, everyone experiences bad breath, such as after eating onions or garlic; however, for some people, the issue can be ongoing. Researchers estimate 80 million Americans suffer from chronic bad breath, also known as halitosis. Although the issue can be the result of the foods you eat or smoking, it is most often caused by bacteria buildup in your mouth. Simple changes to your home oral hygiene routine over the next couple of weeks can significantly improve it to give you a kissable mouth just in time for Valentine's Day.
If the problem lingers, there are be a larger issue causing the odor, like untreated tooth decay or gum disease. To stop the smell, you will need the help of your dentist.
Get Fresh Breath for Valentine's Day
Bad breath most often results from trapped food particles, plaque, and tartar on the teeth, gums, and tongue. Improving your oral hygiene habits can remove the foul-smelling buildup to freshen your breath.
Brush your teeth at least twice a day using a soft-bristled toothbrush and a fluoride toothpaste. Carefully clean all surfaces of your teeth and your tongue for at least 2 minutes each session.
Use a high-quality dental floss to clean between each tooth and around the gum line to remove accumulations left behind by your toothbrush.
Use an antibacterial or antimicrobial mouthrinse to lower harmful bacteria levels in your mouth.
Visit your dentist for a cleaning and checkup.
Do not smoke or use tobacco.
If the problem persists there may be an untreated dental issue causing the problem. Your dentist will find the cause to provide an effective treatment plan to restore your oral health and stop the smell.
Maintain Fresh Breath
After Valentine's Day, do not let bad breath become a reoccurring issue. Maintain your home oral hygiene habits and regular care from your dentist to keep foul odors at bay.
About Sunrise Dental Service
Dr. Makadia strives to deliver quality dental care that creates lasting results for his patients. Besides promoting the health of the teeth and gums, he also works to create confident smiles. He has the solutions you need for a kissable smile. No matter if you need cosmetic treatments or suffer from bad breath, Dr. Makadia can help. Contact Sunrise Dental Service today to schedule your consultation.