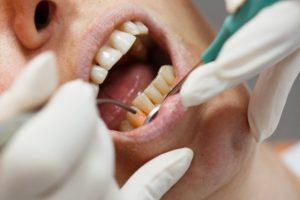 The biggest threat to your gum health involves a preventable infection called periodontal (gum) disease. Although it can be avoided, the Centers for Disease Control and Prevention estimates 50% to 80% of adults have a form of it. To stop the damage of the bacteria, laser gum therapy near Sayville has become the preferred treatment. When compared to traditional options, it provides fewer complications and more effective results.
What is Laser Gum Surgery?
Conventional treatment of gum disease involves a procedure called scaling and root planing. The process uses special dental tools to remove plaque and tartar from the pockets in the gingival tissue. The roots are then smoothed to allow the tissue to reattach to the teeth to seal out bacteria. Although it is effective, it does come with several disadvantages, such as a painful recovery.
Laser gum surgery resolves the common issues associated with the traditional treatment. A highly-concentrated beam of light targets the diseased tissue with pinpoint accuracy. This leaves more of your healthy tissue untouched. The laser sterilizes as it cuts, which reduces bacteria by 99.9%. It also stimulates cells within the gums to allow it to adhere to the teeth. It causes the connective tissues, collagen, bone, and gums to regenerate to better support them.
Why Should I Choose Laser Surgery?
Overall, laser surgery for gum disease near Sayville allows you to enjoy a less painful treatment with more effective results. You will benefit from:
Reduced bleeding because the laser cauterizes as it cuts.
Reduced risk of infection by killing bacteria during the procedure.
Optimized for your individual needs to treat varying levels of periodontal disease.
Quicker recovery because there is less trauma to the tooth, gum, and surrounding tissues.
Minimally invasive treatment that often does not require anesthesia.
Preserve healthy tissue to ensure a stronger outcome.
Is Laser Gum Surgery Right for Me?
Each patient is different, so you will need a consultation with your dentist to determine if laser gum surgery is right for you. You may be a candidate for the treatment if you have:
Deep gingival pockets of at least 5mm.
Symptoms of mild or advanced periodontal disease, like gum recession or loose teeth.
Enjoy Cutting-Edge Technology
You deserve to enjoy the latest advancements in dentistry to promote a healthy, beautiful smile. If you have gum disease, choose an effective treatment to stop the damages of the infection. With a customized approach, you will restore a healthy smile using an innovative solution.
About Dr. Makadia
Dr. Makadia provides quality dental care with lasting results. He strives to help his patients achieve greater dental health using individualized treatments. He combines his qualifications and experience with the latest technologies and methods to promote optimal oral health. Dr. Makadia offers treatment for gum disease, including laser surgery. If you are ready to enjoy an innovative approach, contact Sunrise Dental Service today to schedule an appointment.