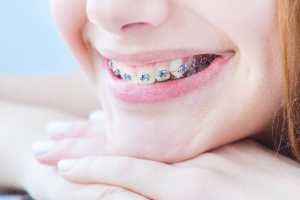 When you look in the mirror, are you dissatisfied with the appearance of your teeth? Does overcrowding and alignment issues cause you to feel insecure? If so, you can get the straight smile you have always wanted with an orthodontic treatment. Now, you have many different options available from your dentist in Holbrook. In addition to traditional braces, Invisalign can provide you with the results you want, but which is the best solution for you?

Benefit from an Effective Solution
Traditional metal braces are the most widely used form of orthodontics in Holbrook because they are effective for treating even the most complex issues while also being affordable. By attaching brackets to the teeth, a wire is held in place using elastics that are placed over them. Adjustments are made to the wire every couple of weeks to gradually pull the teeth into their ideal positions. The constant pressure is effective for treating complex and minor bite and alignment issues. On average, it takes about 18 to 24 months to finish your treatment.
Although metal braces are effective, many are concerned about their appearance. Not to mention, oral hygiene can be a challenge because you must clean around the wires and brackets. In addition, you will need to avoid certain foods, like those that are sticky or overly hard. While there are some restrictions, the treatment plan is easy to abide by and it is affordable for all ages.
Choose a Clear Choice
If you are concerned about the appearance or restrictions of metal braces, you for have an alternative option for orthodontics in Ronkonkoma. With Invisalign, no wires or brackets are used. Instead, clear, custom-made aligners are worn over the teeth to gradually move them into position. This provides a nearly invisible treatment that has less restrictions than metal braces. You can still eat and drink what you like and oral hygiene is easy because they are removable.
Your treatment will consist of a series of aligners that are worn for about 22 hours per day. Each aligner is used for about a week before switching to the next. On average, it takes about 12 months to complete your treatment. During this time, you will enjoy less visits to your dentist because you do not need adjustments, only check-ins to monitor the movement of your teeth.
While Invisalign is effective for treating an array of bite and alignment concerns, it is not right for everyone. In addition, you must be committed to wearing the aligners properly and caring for them with daily cleaning.
Get a Straight Smile Today!
If you are ready to love the smile that you see in the mirror, it is time to see if braces or Invisalign are the right solution for you.
About Dr. Makadia
Dr. Makadia is committed to creating healthy, beautiful smiles. In addition to general dentistry, he provides orthodontics to align the teeth and bite. If you are interested in getting a straight smile, contact Sunrise Dental Service today to schedule your consultation.