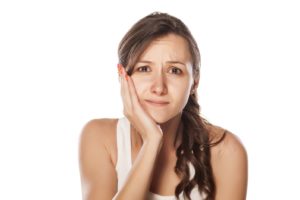 As you go about your daily routine, you never expect from a broken or chipped tooth to interrupt your day. No one is ever quite prepared to handle a dental emergency; however, for one in six Americans, they will face one this year. When the unexpected strikes, it is important to call your dentist in Ronkonkoma immediately while responding to the situation properly at home.

Calm Down and Call Your Dentist!
When a dental emergency happens, your first instinct may be to panic, but it is important to remain calm. Call your emergency dentist in Bohemia right away for a same-day appointment. Although you may not have time in your schedule for an unexpected dental visit, you do not want to delay getting care. If you wait, it could lead to the loss of your tooth. While you prepare for your appointment, there are several things you can do at home to help manage your discomfort and to promote the survival of your tooth.
Knocked Out Tooth
In some cases, a knocked-out tooth can be placed back into its socket, allowing it to survive. Hold the tooth by the crown and do not touch the root. Rinse it with cool water. Do not use any soaps or cleaners and do not scrub or dry it. Try to reinsert it back into its socket. If you are not successful, keep it moist by placing it in a cup of milk.
Dislodged Tooth
Gently try to push the tooth back into position and bite on a piece of gauze to prevent it from moving.
Broken or Cracked Tooth
Rinse your mouth with saltwater and keep the tooth clean. Avoid chewing or placing pressure on it until after it has been repaired. If you are in pain, over-the-counter pain relievers and cold compresses can be used to give you relief.
Sudden Toothache
A sudden toothache should never be ignored. It is often an indicator of an infection that requires immediate care. Use over-the-counter pain relievers to manage your discomfort until your appointment.
Lost Crown or Restoration
Do not try to repair a lost filling or dental crown. Instead, rinse our mouth with saltwater and keep the tooth clean. Avoid placing pressure on it until after it has been treated.
Broken Denture or Oral Appliance
If a denture or another oral appliance breaks, stop using it right away to prevent causing an oral injury. Put it in a safe location and call your emergency dentist in Ronkonkoma right away.
Get Relief During Your Dental Emergency
If a dental emergency occurs, time is of the utmost importance. Do not wait. Call your dentist right away for a same-day appointment.
About Dr. Makadia
Dr. Makadia is committed to providing quality dental care to his patients. He believes in always being there to help you achieve optimal oral health, even during emergencies. If you have a dental emergency, Dr. Makadia and his team will treat the issue and give you the relief you need. Contact Sunrise Dental Service today to schedule an appointment.