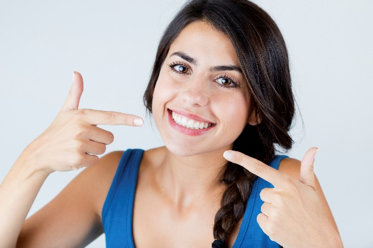 Have you been living with crooked, misaligned teeth? Now, you can get a straight smile using the best advancements in orthodontics. In the past, your only option to receive orthodontic care was with the use of traditional metal braces. While metal braces are effective, you now have an alternative option with Invisalign in Ronkonkoma. At Sunrise Dental Service, we offer both Invisalign and metal braces in Ronkonkoma. Both are effective for correcting the alignment of the teeth. If you are ready for a straight smile, we will help you choose the best option for your needs.
Get a Straight Smile with Traditional Braces
Traditional braces involve the use of wires and brackets, which are bonded to the teeth to move the teeth into their correct alignment. Although metal braces are effective for treating even the most severe orthodontic cases, many people tend to avoid them because they are noticeable. In addition, you will have certain restrictions throughout treatment and oral hygiene can be a bit challenging.
Get a Straight Smile with Invisalign
For those who do not want to deal with the inconvenience or the appearance of metal braces, Invisalign is the most preferred option. Invisalign involves the use of clear, plastic, removable aligner trays that are worn over the teeth. Invisalign offers a quicker and less noticeable treatment that is often more comfortable. However, while Invisalign is effective, it is not a suitable option for everyone. Invisalign cannot be used to treat severe alignment or bite complications.
Which Is Right for Me?
In order to benefit from orthodontic care, you will need to undergo a consultation at Sunrise Dental Service. We will evaluate your oral health, bite, and misalignment to determine the best option to give you a straight smile.
Traditional braces can be used for just about everyone wanting a straight smile while Invisalign has certain limitations. Invisalign is not a suitable option for those who have severely rotated teeth that are rotated from their proper position more than 20 degrees. In addition, Invisalign can't be used to fix teeth that are tipped more than 45-degrees or for those with tooth spacings over 6mm per arch. Invisalign can also not be used to treat deep overbites or poor bites caused from skeletal-caused malocclusions. However, while there are certain limitations to Invisalign, when used on the ideal candidate, you will benefit from high-quality results that last.
Your Dentist for a Straight Smile
At Sunrise Dental Service, we strive to provide our patients with the best orthodontic options, including Invisalign. We will perform the necessary consultation to determine which form of treatment will meet your needs and produce your desired results. No matter if you choose traditional braces or Invisalign, we will create the customized treatment plan needed to give you a straight, flawless smile you will love showing off.
If you are ready to start the journey to a straight smile, contact Sunrise Dental Service. We will perform the consultation you need to straighten your smile with either traditional braces or Invisalign.