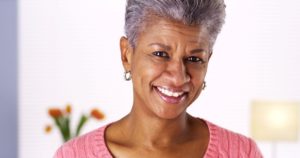 Although there's much to learn about COVID-19, we know patients who have pre-existing conditions are at a higher risk of potentially deadly complications if they contract the virus. If you're among those who have underlying medical issues, you can't stay inside forever. You're going to need to see your dentist regularly if you want to maintain a healthy smile. There's no need to worry. We have the answers to 5 common concerns of at-risk patients.
Safety Protocols for COVID-19
Anyone can get COVID-19, each experiencing a different severity of symptoms. In some cases, patients don't even know they have the virus, while others suffer life-threatening complications. Healthcare professionals know the elderly, and those with heart disease, high blood pressure, and diabetes are more likely to suffer serious symptoms of coronavirus. Any condition that lowers your immune system can cause more severe illness.
If you have a compromised immune system or an underlying condition, you need to be vigilant to protect yourself from illness. Your dentist understands your concerns, and your health is a top priority. They have the solutions to address your apprehensions:
Am I at risk of coronavirus?
Not everyone with an underlying medical condition is at risk of COVID-19; however, you'll need to take extra precautions if you have:
Lung conditions
Heart disease
Diabetes
Weakened immune system
Obesity
Chronic kidney disease
Liver disease
Should I still see my dentist?
After being closed for several weeks, many dental offices are reopening their doors for routine services. If it's time for your next cleaning and checkup, you might hesitate to schedule your appointment; however, this could place your smile at risk. It's best to maintain your dental visits to keep your mouth healthy.
Is it safe to visit my dentist?
Dental offices are already some of the cleanest places, but your dentist has recently implemented several additional protocols to create a sterile environment for patients. They'll follow the guidelines issued by the ADA, CDC, and OSHA to keep patients and staff healthy.
Should I wear a mask and gloves?
Personal protective equipment is essential for creating a barrier when in contact with other people. Your dental team will wear the appropriate masks and gloves to combat the spread of COVID-19, but you'll be asked to leave your gloves outside the office to prevent cross-contamination. You can wear your mask in the office, but it will need to be removed during your examination.
How can I social distance at the dentist?
Your dentist has made several changes to promote social distancing. Besides scheduling fewer patients and creating virtual waiting rooms, your dentist has made the appropriate accommodations to keep you separated from other patients.
Schedule an Appointment Today
If it's time for your next dental visit, you have nothing to fear. Your dentist is taking the necessary precautions to keep you safe to invest in a healthy smile.
About Dr. Makadia
Dr. Makadia strives to provide high-quality care using the latest innovations in dentistry to create healthy smiles. Amid the COVID-19 pandemic, Dr. Makadia has improved the office's safety protocols. If you are at-risk of have questions about our safety standards, contact our office today to speak with a member of our team.