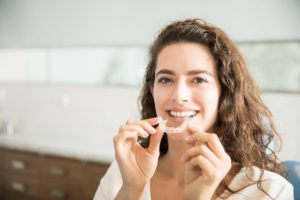 Have you always felt insecure about your crooked smile? You are not alone. In fact, alignment issues are a leading concern among adults. Unfortunately, many adults feel they missed the opportunity to straighten their teeth because they did not have orthodontic treatment as a child. Now, metal braces just are not suitable for their professional image and lifestyle. If this situation sounds familiar, you are not out of options. There are many cosmetic solutions to give you a straight smile, like veneers and Invisalign near Sayville, but which is the best option for you?
Options for a Straight Smile
Several innovations in dentistry give you more options than ever to achieve the smile of your dreams. You may think metal braces are the only way to straighten your teeth, but this is not true. In fact, many people have turned to cosmetic dentistry instead of orthodontics to improve their smile.
Veneers/Lumineers
Attaching veneers or Lumineers to the front surfaces of your teeth can cover your alignment issues. Although they are effective for making your teeth appear straighter, they do not actually move your teeth. Not to mention, you may need to permanently alter the structure of your tooth, and they can only be used for very minor alignment concerns, like closing small gaps.
Metal Braces
If veneers do not sound like the right option for you, metal braces can be used for adults as well. They are effective for resolving even the most complex issues; however, you may need to wear them for a couple of years, and they are noticeable.
Invisalign
As an alternative to metal braces, many people are visiting their cosmetic dentist near Sayville for Invisalign. Clear plastic aligners are worn over your teeth to gradually move them into position. This gives you a nearly invisible solution that provides you with lasting results without having to remove any of your enamel.
Benefits of Invisalign
Impressions of your mouth are taken to create a series of clear aligners. You must wear each aligner in for at least 22 hours per day. After one week, you switch to the next aligner. On average, it takes about 12 months to finish the series. This gives you a convenient and sophisticated solution to achieve the smile of your dreams while also enjoying several other benefits, such as:
Less noticeable for added confidence.
Smooth, custom-fit aligners.
Enhanced comfort.
Easy maintenance and care.
No dietary restrictions.
Less time in the dental chair.
Quick results.
Improves oral health.
Invest in a Straight Smile
If you are ready for a straight smile, enjoy lasting results using the preferred orthodontic system for adults. Discover the benefits of Invisalign today!
About Sunrise Dental Service
Dr. Makadia provides quality dental care to help his patients achieve healthy, beautiful smiles. Besides general dentistry, he offers a variety of services such as cosmetic, orthodontic including Invisalign and laser dentistry. He will create the customized treatment plan you need to improve the appearance of your smile. Contact our office today to schedule your free consultation.